Cardi B Claps Back At Claims Kanye West "Fell Off" After Finding God
30 October 2019, 13:00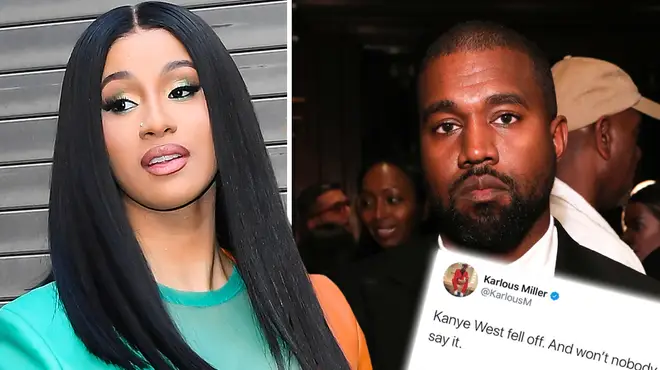 Rapstress Cardi B has responded to claims that Kanye West has fallen off, after hearing his godly 'Jesus Is King' album.
Cardi B is known for speaking out for what she believes on social media. This time, the 27 year-old rapstress defended Kanye West after people were criticising his 'Jesus Is King' album.
While Kanye's new album has been well received, many people are not fans of the lyrical content due to it being a "godly album".
On Friday (Oct 25) comedian Karlous Miller tweeted out that Ye "fell off" and that everybody is too afraid to admit it.
Miller said "Kanye West fell off. And won't nobody say it" on Twitter.
News outlet Hollywood Unlocked reposted Miller's tweet to their Instagram account. Shortly after, Cardi B saw the post and voiced her opinion on the topic.
The "I Like It" rapstress commented "Kanye West found God and people call that falling off," underneath the post.
Many fans are sad about the new Ye and the fact he won't be performing his old songs. However, others have embraced Kanye's change.