The Global Awards 2020: Aitch wins 'Rising Star Award'
5 March 2020, 20:29 | Updated: 5 March 2020, 20:37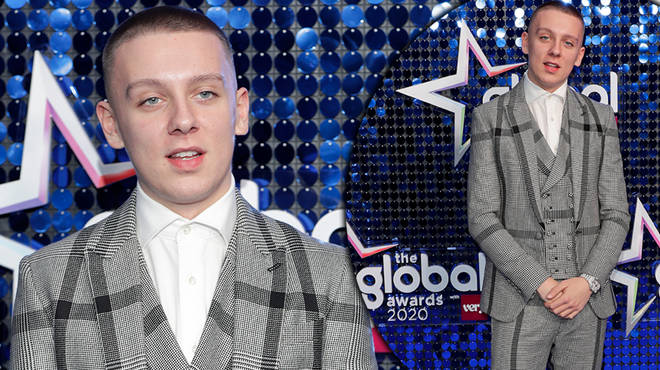 Aitch walks away with the 'Rising Star' award at the annual ceremony for The Global Awards 2020.
Aitch has won the 'Rising Star' award at The Global Awards 2020. The prestigious ceremony takes place on one huge night in London on March 5th at Hammersmith's Eventim Apollo.
The Manchester rapper, most known for his hit single "Taste (Make It Shake) and "Buss Down" featuring ZieZie, walked away with the iconic 'rising star' award.
Find out more about the 19 year-old rapper and see who won the 'rising star before his time.
Who is Aitch ?

Aitch, real name Harrison Armstrong is a rapper from Manchester, real name.

The rapper was born New Moston, North Manchester, on the 9th of December 1999, making him 20 years old.

Aitch's music falls under the UK hip hop, Grime, Rap, Drum & Bas genres, showing his versatility.

Aitch started to take music seriously in 2017. The Mancunian rappers track "Straight Rhymez" has garnered over 18 million views.

The rapper got acknowledged by South London rapper Stormzy, who he featured on "Pop Boy" song with.

20-year-old rapper Aitch has been associated with record companies; Since 93, Northern Quarterz, Ucult LLC, Aitch, Freeport Records.

Aitch supported rappers such as late rapper Cadet and Wiley on tour when he was coming up.

The name "Aitch" derives from the pronunciation of the letter 'h', which is the first letter of his given name.

What award did Aitch win at The Global Awards ?

Aitch won the 'Rising Star' award at The Global Awards 2020.

Other nominees who were in line to receive the award were Young T & Bugsey, Lauv, Tones & I, Aitch and Lizzo.

Singer Halsey won the 'Rising Star' award back in 2019.

Ashley Nicolette Frangipane known as Halsey is an American singer and songwriter.

Halsey was signed in 2014 by Astralwerks and released her debut EP, Room 93, later that year.

What are Aitch's biggest songs ?

Aitch has released three singles that have charted within the top 40 in the UK, including "Taste (Make It Shake)", which peaked at number two on the UK Singles Chart.

Taste (Make It Shake), Wait, Daily Duppy (feat. GRM Daily, )On The Way Home (feat. Bowzer Boss),Miss Me With It and Trust Me.

What is Aitch's net worth ?

Aitch Net Worth: $1.2 Million
In Euro: €1.1 million
In British Pound: £1 million

Aitch reportedly has an estimated net worth of $1.2 million according to rappers money.

Who is Aitch's girlfriend ?

Manchester rapper Aitch publicly confirmed his relationship with his girlfriend, Taylor Mullings after attending The Global Awards together.

Aitch kissed her after winning the 'Rising Star' award at The Global Awards.

The rapper exclusively announced he was no longer on the market at our very own Homegrown Live event, back in November 2019.

Aitch poses with his girlfriend.

Picture: Instagram

The "Taste" rapper sat down for an interview backstage with Capital XTRA's Homegrown presenter Robert Bruce.

When Robert Bruce asked Aitch about his relationship status, the "Wait" rapper replied "Nah nah nah, I'm not single".Aitch continued on to say "I'm off the radar, I'm behaving myself".

"You've got the drop, I've never said that live. Yeah, you've got the drop". He added "Yeah man I'm off the radar".