Future Brutally Trolled After Surprise Nipsey Hussle Comparison
4 April 2019, 11:48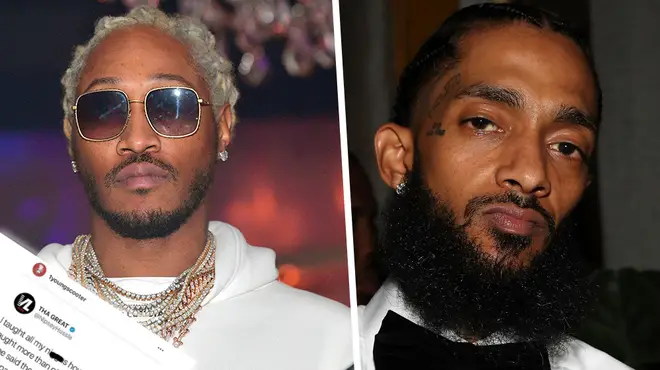 Future has been dragged on social media following his comment on Young Scooter's tribute to late rapper Nipsey Hussle...
Since the passing of Nipsey Hussle, many celebrities have given their support to friends and family and paid tribute to the late rapper. Many are paying their deepest condolences and praying for Lauren London and Nipsey's children.
South Carolina rapper Young Scooter, took to Instagram to post his tribute to Nipsey Hussle. The 33 year-old rapper reposted one of Nip's old tweet, where he spoke of putting his people on and being "real" for taking care of people around him.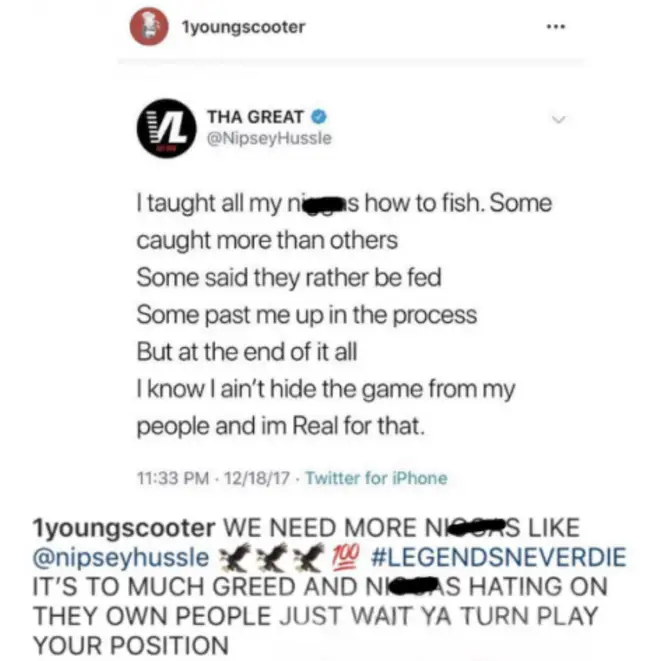 Future saw the post and made a comment that wasn't received well by the public. The "Mask Off" rapper deemed it okay to compare himself to Hussle, just a few days after he passed away. Future has received a lot of backlash since he commented on the post and compared himself to Nipsey.
Future is beyondd disrespectful for comparing himself to nipsey hussle. Future ain't never did shit for his community, he inspired people to sip lean and pop xzans. He didn't make meetings to help gang violence. He never did anything for anybody. There'll never be another Nipsey

— james (@FamousJameis__) April 4, 2019
@1future you could never be @NipseyHussle ever, maybe do something for your community like him but my nigga you pushing it..... We really out here upset and in disbelief over the way he was taken away from this world and u....nevermind just stay in the studio

— Lem Luck (@hellaLuckey) April 4, 2019
Many fans believe it was an insensitive move, with it being only a few days since the rapper passed. Other fans are now trolling future and coming after his music, his parenthood and the 'lack' of things he has done for the community.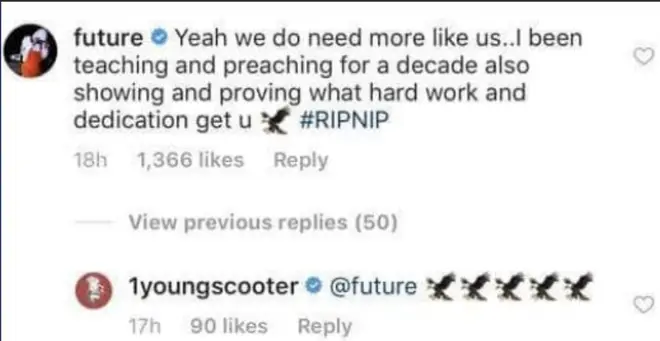 Scooter commended Nipsey for being a great man and believes we need more people in the world like Nipsey Hussle. Future chimed in on the post and compared himself to Nipsey, stating:
"Yeah we do need more like us.. I been teaching and preaching for a decade also showing and proving what hard work and dedication get u." The Atlanta rapper has attracted a bad reception from dans who reminded him of his 'drug' music and the fact that he has 'several baby mothers'.
Some fans revealed the only "teaching and preaching" Future has done is about drugs and sex.
Future isn't necessarily seen in the same light as Nipsey was as the artists are different individuals. For fans, it seems near impossible to compare the two as they are so different.