Meek Mill Responds After 'Dissing' Ex-Girlfriend Nicki Minaj In New Leaked Song
6 March 2019, 10:31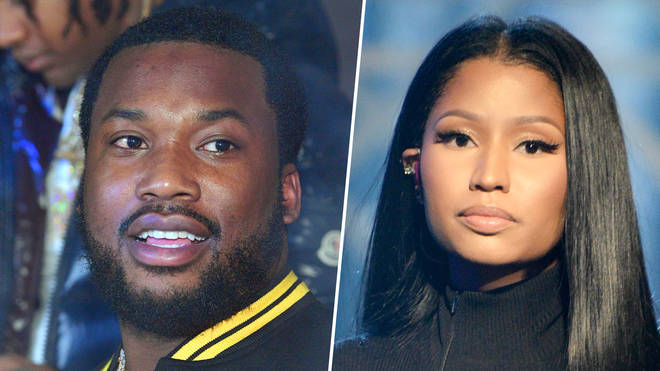 The 'Championships' rapper spoke out after a leaked snippet of one of his new songs caused a stir online, as fans thought he was firing shots at his ex-girlfriend Nicki Minaj.
Meek Mill set the record straight amid speculation that he fired shots at his ex-girlfriend Nicki Minaj - and her new boyfriend Kenneth Petty - in a new song.
A leaked snippet of a track by the 31-year-old 'Championships' rapper was posted online by Houston Rockets player James Harden, who could be seen raising his eyebrows as he listened to Meek's new lyrics.
The lyrics hear Meek apparently dissing an unnamed ex-girlfriend and her new partner, leaving fans wondering if they subjects in question were Nicki and her new boo Petty.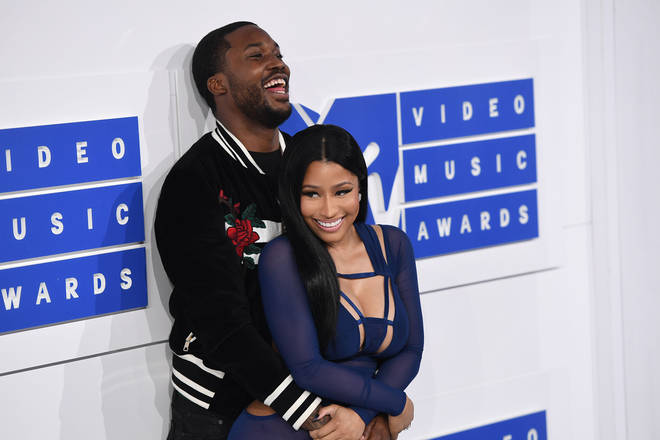 "This sh*t beyond me, you were supposed to be my Beyoncé / Now you this ni**a fiancée?" spits Meek.
"F*ck you mean you feel a connection? / He listen to you, what? / This ni**a wear Balenciaga with boot-cut jeans / What the f*ck you losing your mind? / Ayo, call my f*cking phone back, yo."
He continues, "Everytime you post this ni**a wanna smoke this ni**a / We just broke up last year, how you know this ni**a? / You was cheating on me or sleeping on me?"
"Man, f*ck all that / You with this bum-a** ni**a, he ain't up like that / Real ni**a to a weirdo, he ain't cut like that / Twelve rounds in that p*ssy, he don't f*ck like that."
In response to the speculation, Meek took to Twitter. "Stop the bap I'm like on my 6 girl in the last 2 years let me live," he tweeted. "Y'all gotta hear the whole thing first ….. just chill."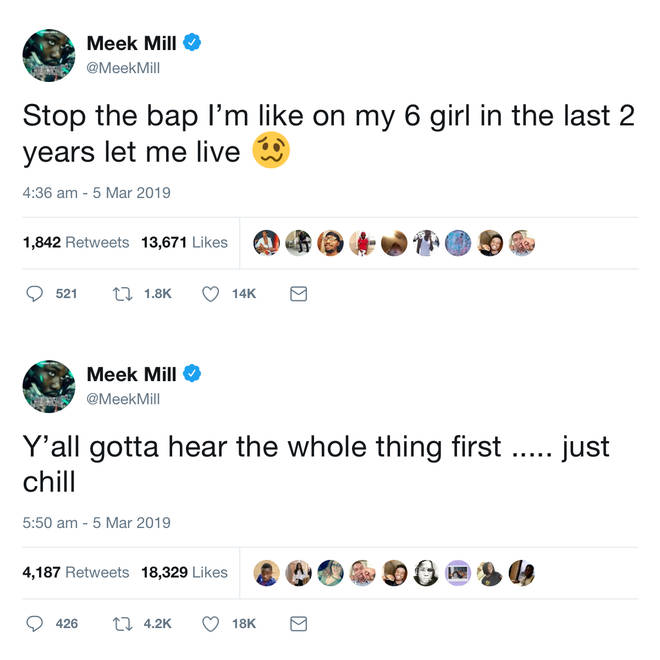 Nicki is yet to comment on the track. The 'Chun-Li' rapstress announced her split with Meek at the beginning of 2017, before a messy break-up ensued.
Minaj is now dating her childhood sweetheart from Queens, Kenneth 'Zoo' Petty, who reunited with Minaj at the end of last year.