Meek Mill Savagely Trolls Nicki Minaj By Cropping Her Out Of An Old Selfie
19 February 2019, 10:36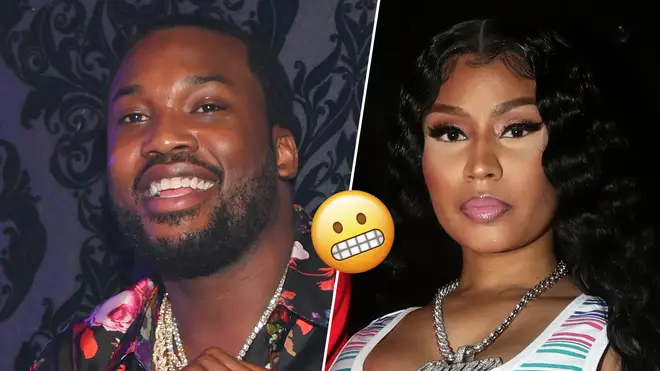 Nicki Minaj's ex-boyfriend was taking no prisoners this week. During his ongoing feud with actor Michael Rapaport, the rapper cropped Nicki out of one of their old photos together.
Meek Mill took his feud with actor and comedian Michael Rapaport to the next level this week, and his clap-back involved his ex-girlfriend, Nicki Minaj.
The 'Championships' rapper hit back at Rapaport after he he labelled Meek "not even Top 20 in Philly" following his performance at the NBA All-Star game on Sunday.
In response, Meek recalled an alleged conversation with Rapaport where he asked him for a selfie at a basketball game years ago, and attached a copy of said selfie.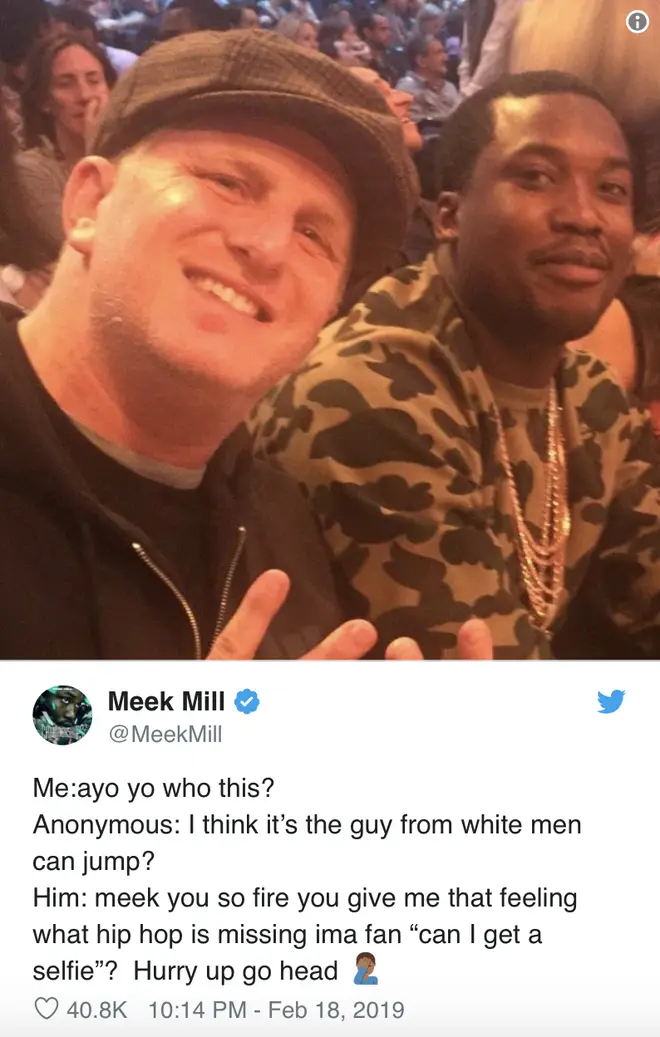 The image in question, however, also features Minaj, but Meek cropped her out of this version, and appeared to refer to her as 'anonymous.'
"Me: ayo yo who this? Anonymous: I think it's the guy from white men can jump?" Meek wrote as he recalled the story. "Him: meek you so fire you give me that feeling what hip hop is missing ima fan "can I get a selfie"? Hurry up go head."
Soon after Meek posted the tweet, Rapaport posted the original image, in which Nicki Minaj can clearly be seen sitting alongside her then-boyfriend Meek.
"All Hip Hop Bloggers & Culture Critics Who Know all about Hip Hop but have Know Idea who Sparky D is, not one of you is on my level with any of this s***," he wrote alongside the full image.
Fans of Nicki called out the 'Going Bad' rapper for obviously cropping the rapstress out of the picture. "I can't believe Meek Diddy cropped Nicki and referred to her as "Anonymous,"" wrote one.
"That Meek tweet and crop is one of the pettiest tweets I've seen in quite some time," wrote another. Nicki is yet to respond to the tweet.
Meanwhile, the 'Chun-Li' rapstress is all boo'd up with her new boyfriend Kenneth 'Zoo' Petty. The pair are already said to be considering "marriage and babies", and were spotted partying together in Hollywood.