Eminem 'Music to Be Murdered By' lyrics: the most controversial words from his new album
21 January 2020, 13:20 | Updated: 29 January 2020, 15:11
The Detroit rapper's surprise 2020 album features songs such as 'Unaccommodating' and 'Godzilla'.
Throughout his career, Eminem has raised more than a few eyebrows with his controversial lyrics, and his new album 'Music to Be Murdered By' is no exception.
The Detroit rapper shocked fans in mid-January by dropping the rumoured album straight out of the blue and in true Marshall Mathers style, some tracks are causing a stir.
Songs including 'Unaccommodating' and 'Godzilla' drew criticism quickly after the album's release, but since then a few more lyrics have got people talking. Check them out below.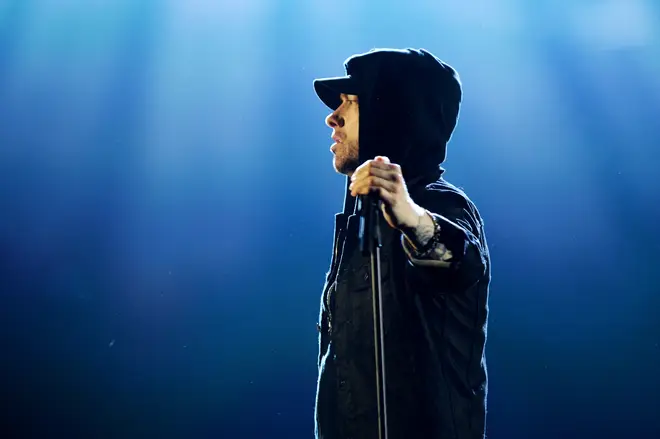 'Unaccommodating'

Eminem received major backlash over some of the lyrics in 'Unaccommodating', which is rapped partially form the perspective of a mass shooter.

One of the lyrics referencing the 2017 Manchester Arena bombing at an Ariana Grande concert has been labelled "disgusting" by fans of the singer:

But I'm contemplating yelling "Bombs away" on the game
Like I'm outside of an Ariana Grande concert waiting

Another controversial lyric focuses on the 9/11 terrorist attacks and references Saddam Hussain:

As I begin to f**kin' devour the track
And you backpedal that is a cowardly act
Like a Saudi attack when the towers collapsed

They call me Saddam Hussein, Ayatollah Khomeini
Where's Osama been? I been laden lately
Look at how I'm behaving, they want me gone away
They wanna JonBenet me (F**k you), I'm unaccommodating

'Godzilla'

On 'Godzilla', which features the late rapper Juice WRLD, Eminem compares himself to notorious serial killer Richard Ramirez, a.k.a. The Night Stalker.

But I tell a b**ch I'll marry her if she'll bury her
Face on my genital area, the original Richard Ramirez
Christian Rivera, 'cause my lyrics never sit well
So they wanna give me the chair
Like a paraplegic

'Marsh'

During 'Marsh', Eminem compares himself to superheroes and claims his skills are otherworldly.

However, at one point, he raises questions with this violent lyric about an unfaithful girlfriend:

My girl's cheatin', I'm kickin' that f**king b**ch to the curb
But the word "fu**ing" ain't meant to be a descriptive word
The type of b**ch she is, ain't no adjective, it's a verb

'Little Engine'

'Little Engine' sees Marshall compare himself to controversial rapper Blueface and mass murderer Albert DeSalv:

Bruce Wayne and Alfred, look out ho
Blueface meets Albert DeSalvo

'Yah Yah'

On 'Yah Yah', Eminem references his ongoing beef with fellow rapper machine Gun Kelly and takes aim at his nemesis once again - elsewhere during the album, he refers to Kelly as a "devil worshipper":

I'm a sight to see, but you can see from the ring I'm wearing
Me and this game, we got married already
Had the prenup ready, f**ked on her, should've seen her belly
She barely was three months pregnant
B**ch had it, gave me a baby, we named it Machine Gun Kelly

'Leaving Heaven'

Eminem compares his upbringing to that of rapper Macklemore who, on his 2012 song with Ryan Lewis 'Same Love', said:

When I was in the third grade, I thought that I was gay
'Cause I could draw, my uncle was, and I kept my room straight

Eminem responds to this by rapping:

Okay, so while Macklemore was keeping his room nice and neat
I was getting my a** beat twice a week