Nick Cannon Just Revealed Exactly What Happened With Azealia Banks On 'Wild 'N Out'
31 August 2018, 11:53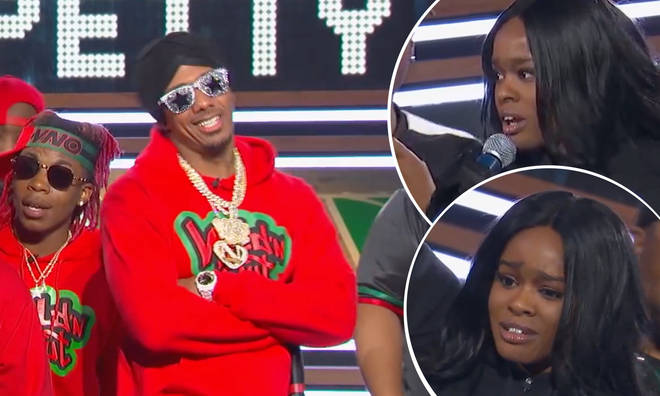 The show host gives his side of the story.
Nick Cannon has addressed the controversial episode of his show 'Wild 'N Out' that Azealia Banks recently appeared in.
Shortly after filming the episode back in July, Banks accused the cast of mistreating her and slammed them with claims of colourism, adding that they made her cry.
She even cancelled the release of her upcoming album 'Fantasea II' following the debate. Despite the backlash from Banks, however, 'Wild 'N Out' proceeded to air the episode.
Speaking on 'Everyday Struggle', show host Cannon explained what really happened behind the scenes with the '212' rapstress, specially the 'So Petty' segment that particularly upset Banks.
"It's funny because she actually broke down. And I was like, 'Yo, anything you don't want to air, let me know and we won't do it,'" Cannon said. "She said it right there, she was like 'That's very anti-black.' I was like, 'yo that's not what I'm about, but if you feel that way, I'll take it out.'"
"But really you understand that comes from self-hurt and self-hatred within, and then she exudes it out," the host continued. "You can hear it in her comments and when she speaks out,"
"She probably has had those problems and insecurities of being a darker complexion woman. And in her community, cause she often talks about dating white men and all that stuff, she's probably not looked at as beautiful to her other peers."
Cannon added that Banks and her team were possibly ill-prepared for the format of the show, which sees comedians and guests roast each other.
"Ultimately what it was she was just embarrassed," he said. "When she came on, it was fair game. So we played the 'So Petty' game. And what happened was she didn't, whether she was a fan of the show or didn't know what was going on, she was a deer in the headlights."
Cannon also responded to Azealia's previous attack on his suffering with Lupus, adding,"That was silly. My feelings can't get hurt."