Azealia Banks Just Slammed Nicki Minaj For Working With Tekashi 6ix9ine
26 July 2018, 16:08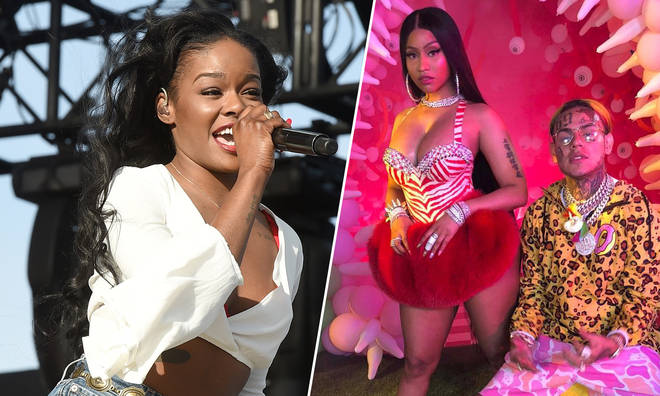 The 'Gotti' rapper is joining Minaj and Future on their upcoming tour.
Azealia Banks has officially withdrawn her membership from Nicki Minaj's fandom after criticising her support of Tekashi 6ix9ine.
The '212' rapper slammed Minaj for including 6ix9ine as a support act on her upcoming NICKIHNDRXX tour with Future, and for working alongside someone previously convicted of a sex crime involving a minor.
Banks embarked on a tirade on social media across both Twitter and Instagram, most of which has since been deleted. Future did not receive any criticism.
"A new queen of rap is coming very very soon," she began. "The new criteria for being queen of rap is: as queen of rap you are responsible for protecting the rights, safety and well beings of young women of color,
"And as such, thou shall not with or lend your voice to known pedophiles as you send the message that it's okay for 18 year old boys to fondle 13 year old girls and get away with it."
She added, "Pedophilia is absolutely gross and evil. Anyone who supports that s**t is a lunatic."
"I'm sorry. Dude gets convicted and you 're still trying to help him out of it? That is very dark." Read the rest of the tweets below.
Nicki is yet to respond to the backlash. Last week, 6ix9ine dropped his new song 'Fefe' which features a guest verse from the 'Chun-Li' rapper. He was later announced as one of three support acts on her upcoming tour.
In 2015, 6ix9ine pled guilty to three felony accounts of sexual misconduct with a child after he shot a video depicting himself, aged 18 at the time, humping a nude 13-year-old girl.
Meanwhile, Banks recently claimed she was mocked and harassed during her recent appearance popular TV show Wild'n Out, prompting a social media outburst.