Tory Lanez & Megan Thee Stallion shooting case: Everything we know so far
29 November 2022, 13:59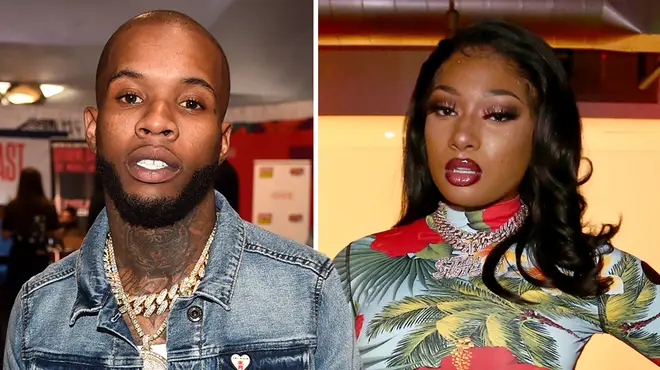 What did Megan Thee Stallion say during her Gayle King interview? When is the trial? Here's everything we know about the shooting incident...
The trial for Tory Lanez's part in the Megan Thee Stallion shooting incident has started.
The rapper faces up to 23 years in jail due to his part in the shooting, and is now awaiting his fate after he was put on house arrest.
His trial is in Los Angeles, and the jury have now been selected. The prosecution's key witness is believed to be Megan's former friend.
A few hours after Tory Lanez, Megan Thee Stallion and Kylie Jenner were on Instagram Live having a good time in the pool, it was reported the night turned into a tragedy.
Reports later revealed that the Canadian rapper & Houston Hottie were involved in an incident which resulted in gunshots being fired.
Here's everything we know about Tory Lanez and Megan Thee Stallion's shooting incident.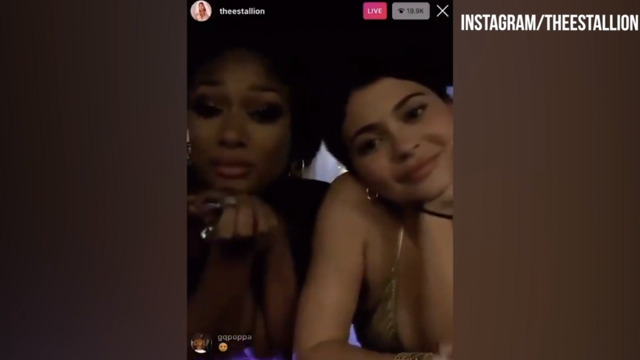 Megan Thee Stallion, Tory Lanez and Kylie Jenner hang out
When does the trial start?

The trial for Tory Lanez shooting incident with Megan Thee Stallion has started.

On Monday, 28 November, Lanez appeared in the courtroom ahead of jury selection.

The trial is set to last for quite some time, so check back here for updates.

What did Megan Thee Stallion say in her Gayle King interview?

Megan Thee Stallion's full interview with Gayle King was released Monday (Apr 25).

During the interview on CBS Morning, Megan opened up about the 2020 shooting involving Tory Lanez.

"This was one of them times where, it shouldn't have gotten this crazy," Megan told Gayle when recalling the incident in question.

After Tory reportedly shooting Megan's foot, he is further alleged to have offered her $1 million to keep quiet.

Explaining the situation, Megan said "he is standing up over the window, shooting. I didn't even wanna move. I didn't want to move too quick. … I was really scared because I had never been shot at before".

In the immediate aftermath, Megan said, Tory apologised and offered her the money.

"I'll give y'all a million dollars if y'all don't say nothing," he's alleged to have said.

"The arguing in the car is getting worse and I don't wanna be in this car no more, because I see it's getting crazy," Megan said. 

The rapstress recalled allegedly being told "dance, b**ch" before the shooting began.

As for her initial interactions with police over the shooting, Megan revealed that she was skeptical to tell the police as she feared the situation would result in police brutality.

"The George Floyd incident had just happened" adding that "The police are definitely very much shoot first, ask questions after."

She continued: "So I'm like, it's a hot gun in the car, I'm bleeding, I've been shot. They're about to kill somebody. Something bad is about to happen."

Megan admitted that she first told police she had sustained her injuries from stepping on glass.

"I didn't want them to kill any of us, or shoot any of us," she said.

When Gayle King asked whether Megan had an "intimate relationship".

The 'Savage' rapstress responded: "I didn't have a sexual relationship with Tory," but she admitted they were "close" as they initially bonded over losing parents.

During the interview, a text obtained by CBS Morning from July 2020 from Kelsey to Megan's security saying "Tory shot Meg" was sent.

What are the recent developments with Tory Lanez?

In April, a judge found Lanez to be in violation of a protective order in connection with the Megan shooting case.

The rapper's bail was also increased due to a number of tweets, including inaccurate info on about the case.

A prior preliminary hearing also included mention of gunshot residue reportedly being found on Lanez's hands, as well as Kelsey's.

A trial date is set for this September.

What happened during the incident?

Los Angeles police officers reportedly received a call about a disturbance outside of a Hollywood Hills residence around 4:30 a.m on on Sunday, July 12.

Once police officers arrived, witnesses revealed that they overheard people arguing in an SUV before shots went off.

According to TMZ, law enforcement found the SUV with Tory Lanez, Megan Thee Stallion, and Meg's ex best friend, Kelsey, in the vehicle.

Police discovered a gun while searching the vehicle. Tory Lanez was arrested and charged with one felony count of carrying a concealed weapon in a vehicle. 

Did Tory Lanez get arrested?

On Sunday (Jul 12)  Tory Lanez was arrested and charged with one felony count of carrying a concealed weapon in a vehicle around 4:40 a.m, near a Hollywood Hills home.

Tory Lanez was arrested on Sunday (Jul 12). Picture: Getty

Did Megan Thee Stallion get arrested?

Megan Thee Stallion did not get arrested on Sunday (Jul 12) after police searched the vehicle she was in with Tory Lanez and another unidentified woman.

Footage from TMZ on July 15, shows Megan Thee Stallion and Tory Lanez surrendering to the police after being found in the SUV.

However, Meg released a statement on Instagram, revealing that she was not arrested or detained by police.

Megan Thee Stallion has been labelled a "victim" by police. Picture: Getty

Did Tory Lanez shoot Megan Thee Stallion?

On Thursday (Jul 16) reports emerged after an unarmed source told PageSix that Tory Lanez was the person who fired shots.

"Tory fired the shots from within the vehicle while Megan was outside trying to leave," the source said.

"There is video and the police are investigating. This is a case of a man physically harming and abusing a woman."

According to a TMZ report, Tory allegedly hit Meg in the feet twice. "Sources connected to Tory say there are mitigating circumstances".

"Based on what we know, we believe he's going to say it was an accidental shooting" TMZ wrote.

Who was the other woman in the car?

The other woman who was allegedly in the car alongside Tory Lanez and Megan Thee Stallion, was Meg's best friend Kelsey Nicole.

On Thursday (Jul 16) Nicole issued a statement that she witnessed the shooting but that she is not the one who fired shots.

"I want to clear up the rumours that I shot Megan," said Kelsey in a since-deleted Instagram post.

"I WASN'T the one with the gun and would never do something like that. However I was present."

Did Megan Thee Stallion get shot?

Reports close to the time the incident happened, claimed Megan Thee Stallion was taken to the hospital to be treated for stepping on glass.

However, Meg cleared up wrong information that was put out there, Instagram that she suffered from gunshot wounds "as a result of a crime that was committed against me and done with the intention to physically harm me."

Police officers reportedly took Megan to the hospital where she underwent surgery to "remove the bullets."

Four bullet casings were recovered from the scene, although Megan didn't clarify how many times she was shot or where on her body she was hit. 

What has the police said?

An LAPD Press Office Spokesperson told Complex, "We don't even have information on any passengers in the vehicle. We just know that he [Tory] was booked on a concealed weapon violation."

The LAPD has listed Megan as a "victim" in the incident, according to TMZ.

Is Tory Lanez in custody?

Tory Lanez was reportedly released the same day on $35,000 bail. 

The Canadian rapper was allegedly released 2 hours after being booked in.