Tinashe claps back after Azealia Banks makes FKA Twigs copy claims
5 December 2019, 12:18 | Updated: 5 December 2019, 12:21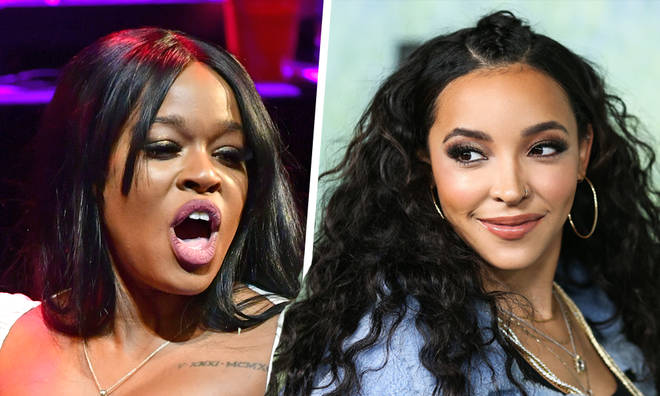 Azealia Banks took aim at Tinashe suggesting that the '2 On' singer copied FKA Twigs in a recent Instagram post.
Azealia Banks has never been afraid to speak her mind and 2019 has seen the '212' rapper take aim at Nicki Minaj, Cardi B and Rihanna, amongst others.
Now Azealia has sent shots at Tinashe on Instagram and the 'All Hands On Deck' singer has hit back, sparking an unlikely music feud at the end of the year.
Azealia Banks initially took issue with Tinashe's artwork for 'Songs For You', which she'd shared on Instagram and stated that Tinashe was copying FKA Twigs.
Banks wrote, 'Lmfao tinashe tried it. @tinashenow. Now she think she f.k.a twigs with the painting. Santa please bring the girls some originality for Xmas. This pose, the edgeless background, the placement of the hand with the spread fingers, this color scheme. The strings lol. Fire your creative director sis.'
But Azealia Banks didn't leave it there as she then decided to comment on Tinashe's Instagram post and call her out further, writing "Girl you don't get tired of copying f.k.a twigs?".
Having remained quiet on the situation, Tinashe then clapped back at Azealia Banks' comment and said 'lololl happy thanksgiving girl, wishing you peace and happiness, stream 'song for you'.
Azealia Banks vs Tinashe isn't how we thought this decade would be ending and it seems fans were surprised a feud had been sparked as the asked Azealia to delete her post.
One wrote 'girl this is a reach ily but delete this PLEASE' and another said, 'Lets delete this and give thanks ma'.
> Download Our Free App For All The Latest Music News!