Azealia Banks Slammed For 'Fat-Shaming' Rihanna During Wild Instagram Rant
23 September 2019, 10:46 | Updated: 23 September 2019, 11:56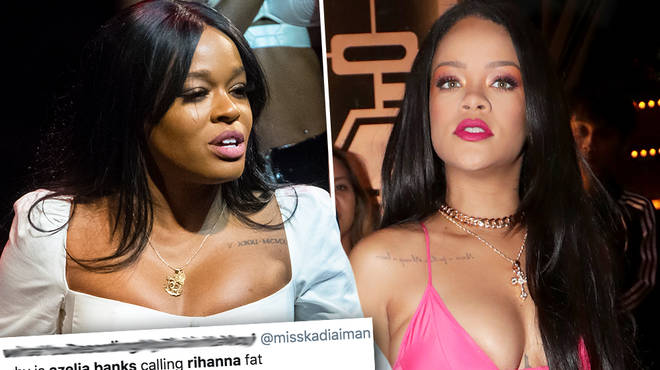 Rapper Azealia Banks has been dragged by Rihanna fans after calling the singer "fat and edgeless" during her Instagram rant. Banks went in on Rihanna's weight after watching the Savage X Fenty fashion show.
Azealia Banks recently took to Instagram to fat shame Rihanna, while watching the Savage X Fenty fashion show over the weekend.
While many praised Rihanna for her choreography, her appearance and for being the figure behind the amazing event, Banks focussed on Rih's weight.
Azealia Banks was quick to jump on Instagram after watching the nearly-hourlong documentary of Rihanna's Savage X Fenty fashion show.
While many are praising the show for it's inclusivity, choreography, stage design, Banks took digs at Rihanna's weight.
During the Instagram rant, Banks revealed that she's coming for Rihanna's weight and edges due to the past beef they had.
Banks claimed that Rihanna once posted a photo of her where her "edges were like missing" and that was what began their feud.
The 28 year-old rapper trolled Rihanna for her "bald ass f*cking edges." In one of the clips, Banks says "We will have no f*cking fat black icons on this f*cking side".
Banks also argued that Rihanna should received more public backlash, rather than it being a "cultural joke to joke on Azealia Banks."
During the Instagram rant, the "212" rapper also targets Jay-Z and Diddy for "being the cultural barometers for Black women's beauty" and "really selling this to [her]." 
Many of Rihanna's fans took to social media to stick up for the singer. Take a look at the tweets below.
Azelia banks really went on a 32 snap rant about Rihanna (of all people) being faylt and didn't once stop to fix her wig....................she is beyond help

— Maryland World Peace (@YouDamnWhites) September 21, 2019
Azelia Banks better get Rihanna's name out her crazy ass mouth

— Aus Baby (@saydeem_) September 22, 2019
The nerve of Azelia Banks to call Rihanna bald-head and call her fat and edgeless when every time we see her she has on a discounted party city wig and she looks like a malnourished chicken with rotten eggs

— 🤓Rhaegar Snow🤓 (@geektify) September 22, 2019