Azealia Banks Drags Cardi B For 'Copying' Her Outfit With Savage Post
27 August 2019, 15:34 | Updated: 27 August 2019, 15:51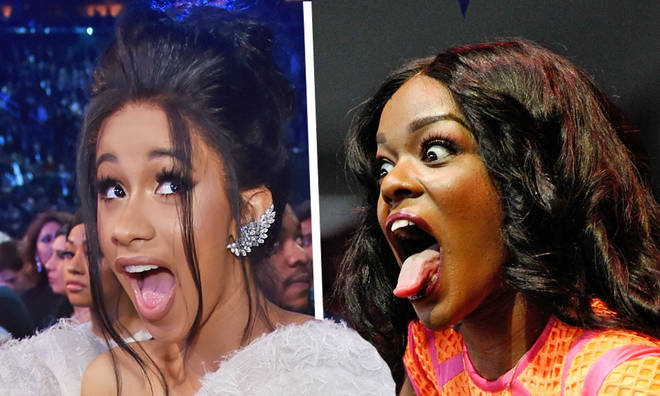 'Money' rapper Cardi B has been accused by Azealia Banks of copying one of her outfits as the pair's public feud continues.
Azealia Banks is no newbie when it comes to feuds with fellow artists and her ongoing anti-Cardi B campaign continued recently as the '212' rapper took a big swipe at Cardi over one of her outfit choices.
Just hours after Cardi B won the MTV VMA for 'Best Hip-Hop Video', Azealia Banks took to Instagram to hit out at the 'Money' rapper with claims that she'd copied one of her recent styles and suggested Cardi's team stalked her Instagram for inspiration.
Writing alongside the post above, Azealia Banks said, '@iamcardib lol sis you make everything look so cheap and dirty. #jeanpaulgaultier #thirstbucket lol funnily enough, I've found at least six Atlantic records employees following me and am sure her team scours my account for inspiration. Lmfao... tell Craig Kallman to call me.'
Azealia went on to add, 'Lose the chicken dinner and get with the winner. In fact........ I may actually consider this. Azealia (Mermaid), Atlantic (Ocean) Lol ... could be very magical.'
The outfit in question is the dress (below) which Cardi posted on Instagram and Azealia Banks appears to be suggesting Cardi was copying the jumpsuit she wore earlier the same month.
Azealia Banks' fans were quick to call on her to release new music rather than calling out her fellow rappers, with one fan writing 'Can you just release music and stop picking fights? It's exhausting. You're undeniably the most innovative and talented girl in your lane, no need to speak on others- biting gets the point across faster than a bark'.
Cardi B is yet to respond to Azealia Bank's claims that her team stalk Banks' Instagram for inspiration, but the rapper has a reputation for defending herself in public so fans will be keeping an eye out for any clap backs.
> Download Our Free App For All The Latest Music News!