Azealia Banks Accuses Nicki Minaj Of Being "Evil" & "Fake" Towards Megan Thee Stallion
13 August 2019, 15:23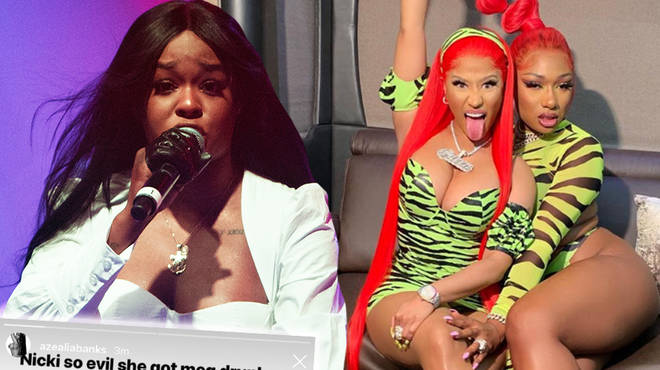 Rapper Azealia Banks accuses Nicki Minaj of having bad intentions with Megan Thee Stallion. The 28 year-old rapper believes Nicki tried to make Megan look less favourable.
Azealia Banks has revealed that she believes Nicki Minaj has a diabolical plan of destruction for Houston rapper Megan Thee Stallion.
The "212" rapper accused Nicki Minaj of getting Hot Girl Meg drunk so that the "Big 'Ol Freak" star will look bad in photos next to her.
On Saturday (Aug 10) Nicki Minaj took to Instagram to share a photo of herself and Megan behind the scene's of the "Hot Girl Summer" music video.
Nicki and Megan also hopped on Instagram Live together, which struck a nerve in Azealia as she believes Nicki got her drunk to make Meg look less favourable.
Azealia Banks took to Instagram to let her followers know Nicki's intentions with Meg. She wrote "Nicki is so evil she got meg drunk on purpose so she looks wild in the photo/video plus Nicki is WILD COKED".
"ugh Nicki is so damn fake and evil I cannot :(," Azealia wrote on Instagram story.
She continued "Happy for meg but I really hope nicki doesn't try it with her. The girl has had to push thru past loads of obstacles to get to this level"
"I really pray that Nicki is not up to the evil sagittarian sh*t I highly suspect she is.... uh sis is really the worst."