Post Malone new teeth diamond fangs: Price, surgery procedure, dentist, photos & more
15 June 2021, 17:24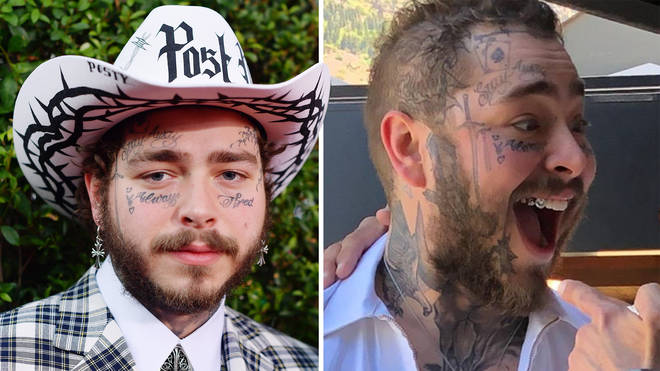 The "Sunflower" rapper flaunts his new diamond fang grills in new photos on Instagram. Here's where the rapper got it done and how much it costed.
Post Malone is mostly known for his wild tattoos, but the rapper recently shocked fans when he debuted his new diamond teeth.
On Monday (Jun 14) celebrity dentist and the self-proclaimed "Father of Diamond Dentistry" Dr Thomas Connelly revealed that he blinged out Posty's teeth.
Connelly shared a black-and-white portrait photo of the 25-year-old rapper, flexing his new grills.
In the caption, the celebrity dentist listed the work he did on the "Circles", revealing that he had natural veneer work along with two diamond fangs.
Who made Post Malone's new diamond grills?

Dr Connelly was assisted by cosmetic dentist Naoki Hayashi, and Isaac Bokhoor from Angel City Jewelers. 

He revealed that the reconstruction procedure cost Post $1,600,000 and took place last weekend.

In an interview with Rolling Stone, Connelly revealed that he met Post Malone a few years ago at Madison Square Garden.

Post Malone then enquired about getting his own diamond tooth done after he had seen Connelly's work done for other artists and athletes.

Dr Connelly also revealed he stepped into unknown territory as he had never done a dental diamond embed before, but agreed to try it for Posty.

It apparently took Connelly about a year-and-a-half to figure out a way to create diamond teeth and a few more months to figure out how to insert them. 

Dr Connelly explains, "It's very difficult to cut holes in diamonds without destroying them."

He has used 40 carats of diamonds from Belgium and cut in Israel for creating Post Malone's fangs.

The dentist has previously worked with celebrities such as Dababy and Shaq.

What work did Post Malone get done to his teeth?

The New York rapper had a Porcelain Veneer surgery, which is one of the most popular cosmetic dental procedures.T

he Rockstar hitmaker got his two diamond fangs framed with a total weight of 12 Carats.

He also underwent a procedure to complete 26 units of ceramic restoration alongside getting his 2 diamond teeth.

During an interview with Rolling Stone, Dr Connelly explained that a diamond has to be twice the size of teeth for this procedure so that it can be cut and shaped.

In Post Malone's case, hence for a six-carat canine tooth, a 12-carat raw cube is required. This creates a lot of waste, as 3 to 4 more diamonds could be cut out of it.

Before and After Photos