Post Malone tattoo gallery: Head, face, skull & more
16 February 2021, 12:57 | Updated: 16 February 2021, 13:03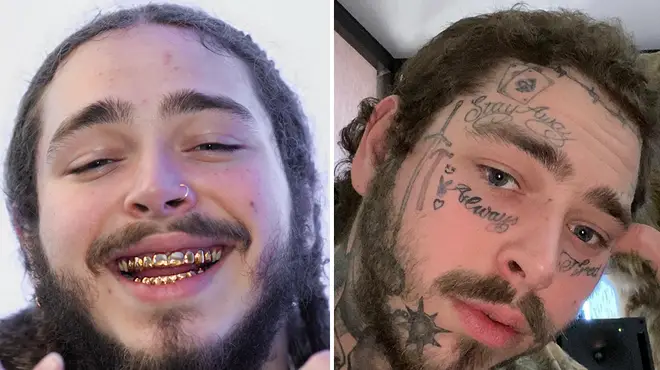 Did Post Malone really get a Doritos face tattoo? Here's a photo gallery of the rapper's face and head tattoos.
Post Malone is known for his bold aesthetic, from his unique style to his outstanding tattoos – and of course, his music.
Since 2016, the 25-year-old rapper has gotten more than 60 known tattoos, 14 of which are on his face.
The "Sunflower" rapper has been piling on the body art over the years, but what face and head tattoos does he have?
Check them out in our Post Malone face and head tattoo gallery below.
Without face tattoos

Without face tattoos. Picture: Getty

Giant Mace

Gauntlet and Mace.

Picture: Instagram

Abstract art

Tree branch-like art.

Picture: instagram

'Always Tired' tattoo

'Always Tired' tattoo.

Picture: Instagram

Blood dripping buzzsaw

Blood dripping buzzsaw.

Picture: Instagram

Skull Tattoo

Skull tattoo.

Picture: Instagram

'Stay Away'

'Stay Away'. Picture: Getty

Sword

Sword. Picture: Getty

Barbwire

Barbwire. Picture: Getty

Cards

Cards. Picture: Getty

Marshmellows helmet

Mashmellow Helmet. Picture: Getty

"7" and "7" - both sides of his nose

77 tattoo.

Picture: Instagram

Playboy Bunny and Heart

Playboy Bunny and Heart.

Picture: Instagram

Dorito

Bloody hammer

Bloody Hammer.

Picture: Instagram