Post Malone new album 2020: tracklist, release date, songs, features & more
24 July 2020, 17:36 | Updated: 24 July 2020, 17:40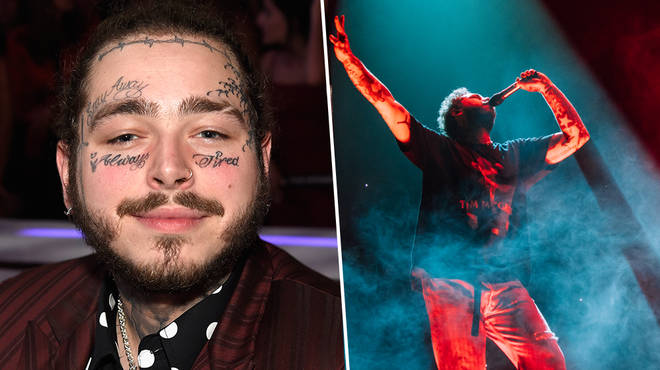 Rapper Post Malone has revealed he has wrapped up his new album.
Post Malone has kept fans on their toes after announcing that he is working on a new album. The 25-year-old rapper has been working hard while quarantining at his home in Utah.
The New York rapper lasts album release was 'Hollywood's Bleeding' back in September last year, which featured his hit singles "Sunflower" and "Circles".
Malone's last project was his second US number-one album, and was supported by six singles: "Wow", "Goodbyes", "Circles", "Enemies", "Allergic", and "Take What You Want".
The first three songs peaked at number two, three, and one on the US Billboard Hot 100.
So, let's see what Post Malone has in store for us with his new album.
What is Post Malone's new album?

The "Sunflower" rapper has revealed that his new album will be inspired by the events that have  says is inspired by what's going on in the world right and, he hopes, will "uplift people's spirits."

During an interview with Wall Street Journal Magazine, Malone revealed he's "just vib[ing]-out and [seeing] where my brain takes me — this has been a perfect time to make music, and to write songs about what's going on currently."

Post Malone's Runaway Tour came to a halt mid-March due to the COVID-19 pandemic. Picture: Getty

"There's so much to say in these times that will give people hope and hopefully uplift people's spirits," the rapper said of one of his new songs from the album.

"Because it's a dark time in America. It's a dark time in the world. Honestly, for a songwriter to be in the house all day is a blessing and a curse."

"In the darkest of times I'm just trying to make something beautiful out of it."

Malone revealed that he has produced some of the best music during quarantine.

The rapper said "And I probably say that every album cycle, but for me it feels so special," he told the magazine.

Posty continued "I want to make an album that will uplift and show that people are not alone in their times of loneliness and worry and that at the end of the day we all just need to show love to everyone on the planet and figure things out."

The rap star added : "So we're working pretty hard, and I think we're making some incredible stuff."

When will Post Malone's new album be released?

During an interview with Rolling Stone, Post Malone said "I hope to have a record out for the fans in 2020".

However, there is no official release date for the album.

On Friday (July 26), Pop Crave shared a video of Malone performing in Wyoming, revealing to his audience that his new album is finished.

"I have some pretty f*ckin' awesome news, and the reason my voice is kinda fucked is because I was in the studio for the last three days and we just finished up the new album, and I think it's gonna be pretty goddamn out of sight," he says in the clip.

Although Posty didn't offer any additional information about the album, he seemed eager to get it out to his fans.

Who will Post Malone's new album feature?

On Post Malone's last project "Hollywood's Bleeding", he included features from DaBaby, Future, Halsey, Meek Mill, Lil Baby, Ozzy Osbourne, Travis Scott, SZA, Swae Lee, and Young Thug.

Malone has not confirmed who will be featuring on his new album.

What songs will be included on the new album?

Post Malone recently released his song with Florida rapper Tyla Yaweh "Tommy Lee".

There is no official song for the new album yet.

What is Post Malone's new album tracklist?

The tracklist for Post Malone's new album has not been released yet.