Nas Suggests Jay-Z "Indulged" In Young Girls With R. Kelly In Resurfaced Video
16 January 2019, 15:46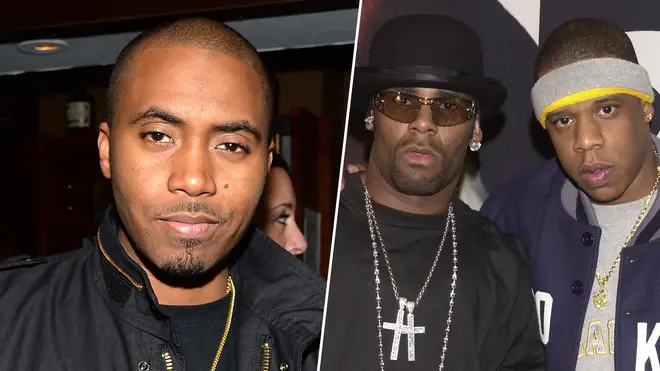 In a resurfaced interview from 2002, Nas spoke to Wendy Williams shortly after the release of R. Kelly's infamous sex tape featuring an underage girl.
In light of the viral 'Surviving R. Kelly' docuseries, a video of Wendy Williams interviewing Nas in 2002 has resurfaced.
The interview took place shortly after the infamous sex tape of R. Kelly and an underage girl leaked to the public, and hears Nas discuss the controversial singer with Williams.
A few months before the interview aired, Nas had dropped his 2001 album 'Stillmatic' which featured the Jay-Z-aimed diss track 'Ether', widely regarded as one of the best diss tracks in Hip-Hop.
Nas told Williams that he believed Jay was aware of Kelly's wrongdoings, saying, "I could have showed the R. Kelly video that everybody's talking about and made fun of it and show pictures of Jay hanging out. 
"You can't tell me Jay didn't see a 14-year-old girl come into the studio and sit on R. Kelly's lap," he continued. "You gonna tell me he didn't see no 14-year-old girl come into the vicinity?
"You've seen it go down. I've been around R. Kelly … I've been on tours with him. I didn't see no 14-year-old, but I talked to the man and see there's a little problem there.
He added that Kelly "needs help", saying, "I pray for him. I'm here for the people. I'm here to talk the truth." Watch the video below.
Jay Z is yet to comment on the allegations. Kelly continues to deny all claims against him, which include mental, physical, and emotional abuse, sexual misconduct, predatory behaviour and pedophilia.
Kelly's daughter recently took to social media to call out her "terrible" father amid the ongoing controversy, and labelled him a "monster".