Future Responds After Being Dragged Into Nicki Minaj & Cardi B Feud
27 September 2018, 12:04 | Updated: 27 September 2018, 12:07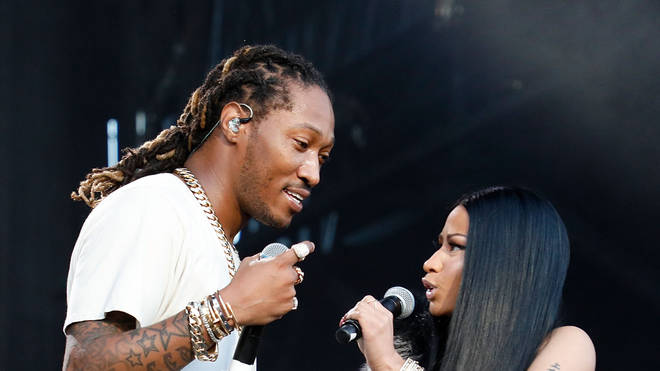 Future appears to have responded via a private DM...
Future appears to have responded after being dragged into Nicki Minaj's ongoing feud with Cardi B.
The Freebandz rapper, who some fans claim was threatened by Nicki Minaj over working with Cardi B, may have given his response to the situation.
Reports suggested that Nicki Minaj warned Future to remove his verse from a Cardi B collaboration called 'Drip' or risk being taken off their joint NICKIHNDRXX tour.
However in a screenshot of alleged conversation between Future and a Nicki Minaj fan on social media, the rapper has denied the accusations.
"No. My bro cassius wanted me on the song 'cause he produced it n I said NO," he allegedly wrote in a direct message.
Future desmente rumores de que Nicki Minaj teria o proibido de participar da faixa "Drip", de Cardi B: "Não. Meu irmão Cassius me queria nessa música por que ele produziu mas EU disse não" pic.twitter.com/IEmQBTkHzm

— Team Minaj Brasil 👑 (@teaminajbrasil) September 25, 2018
Following the rumours about Nicki Minaj about Cardi B, fans took to Twitter to create the hilarious hashtag #NickiStoppedMyBag.
The viral sensation was based around the suggestion that Nicki Minaj frequently ruins people's lives and involved fans tweeting made-up scenarios and blaming Nicki for their negative outcomes.
Nicki Minaj acknowledged the hashtag by screenshotting one of the tweets for her Instagram Stories.