Alicia Keys ft. Swae Lee - LALA lyrics explained
10 September 2021, 16:16
Here's the meaning behind the lyrics of Alicia Keys - LALA.
Alicia Keys is known for her incredible vocals which is often matched with her skilful piano playing.
The talented singer broke out on the scene in 2001, with her debut album 'Songs In A Minor' and has been making waves ever since.
Here are the meaning behind the lyrics of her hit track LALA, featuring Swae Lee.
Skin like whiskey (Whiskey) She's cold like on the rocks (Rocks) - The lyrics compare a persons skin colour to whiskey, which is more often a dark brown. The reference "on the rocks" is often used for spirit that is only accompanied by ice.
Bought you Louis, Fendi, etcetera - Swae Lee brags about buying designer items for someone, such a Louis Vuitton and Fendi.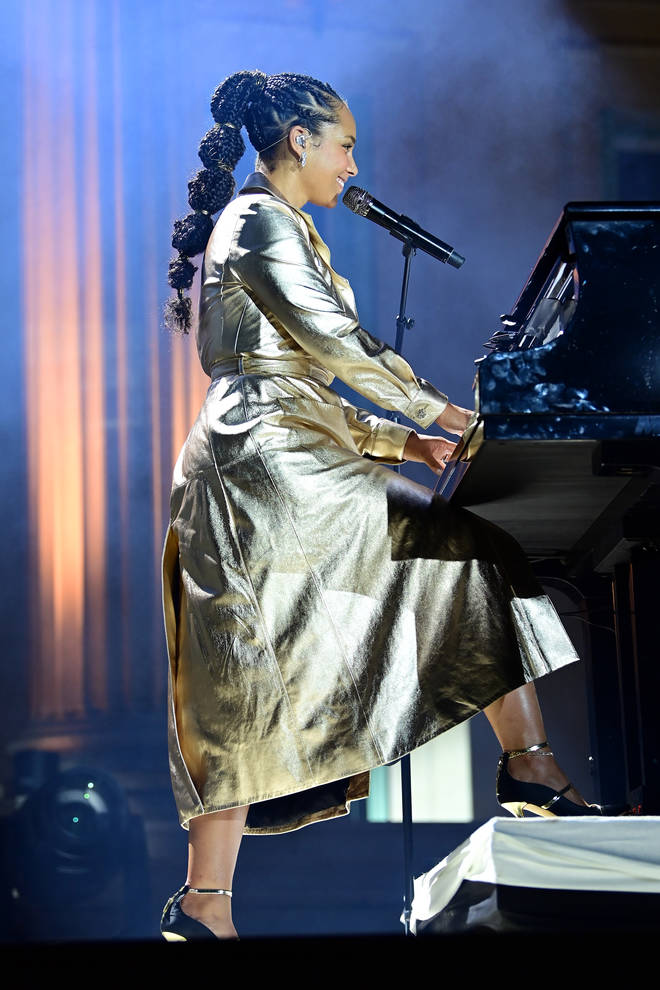 Love out of this world, out of this nebula - A nebula refers to the gas and dust that exists between stars.
Trying to fight it would be so ridiculous - Here, the singer refers to the love described in the song.
Someone watching would be so jealous - The love described is so incredible it would make others jealous.
See the full lyrics for Alicia Keys ft. Swae Lee LALA below:

[Intro: Alicia Keys]
(EarDrummers)
Ooh, ooh, ooh, ooh
Ooh, ooh
La, la-la, la, la-la, la, la (Ooh, ooh)
(Mike WiLL Made-It)

[Chorus: Swae Lee & Alicia Keys]
Light the incense (Incense), not to mention (Mention)
Skin like whiskey (Whiskey)
She's cold like on the rocks (Rocks)
La, la-la, la, la-la, la, la
I'm still low, smokin' zaza
Light the incense, lose the tension, feel like Heaven
Lust mixed with a vodka
La, la-la, la, la-la, la, la
Feelings get lost in the lala (Here we go, haha, we in business)

[Verse 1: Swae Lee & Alicia Keys]
Happy but you're unhappy (We in business)
Shorty you're so valid
I'm ready when you're ready (Ready)
Don't you know eyes can be so deadly?
Try not to think but you made me
It's just a cheap thing, baby (Baby)
Now all in my satin sheets, you're layin' (Layin')
Walk through the door, there you were
Bought you Louis, Fendi, etcetera
Woman, you should've told me, you were dangerous
Woman, you should've told me, you were medicine (Here we go)

[Pre-Chorus: Alicia Keys & Swae Lee]
Put it on me, like you said you was
Fell so hard like you said you was
Love out of this world, out of this nebula
It's best to just put you on my schedule

[Chorus: Swae Lee & Alicia Keys]
Light the incense (Incense), not to mention (Mention)
Skin like whiskey (Whiskey)
She's cold like on the rocks (Rocks)
La, la-la, la, la-la, la, la
I'm still low, smokin' zaza
Light the incense, lose the tension, feel like Heaven
Lust mixed with a vodka
La, la-la, la, la-la, la, la
Feelings get lost in the lala (Here we go, haha, we in business)

[Verse 2: Alicia Keys & Swae Lee]
Listen, healthy indecisions (We in business)
Trying to fight it would be so ridiculous (Yeah)
I'm ready when you're ready
Someone watchin' would be so jealous
I try not to think but you made me
It's just a cheap thing, baby (Baby)
All in my satin sheets, you're layin' (Here we go)

[Pre-Chorus: Alicia Keys]
Put it on me, like you said you was
Fell so hard like you said you was
Love out of this world, out of this nebula
It's special, put you on my schedule

[Chorus: Swae Lee & Alicia Keys]
Light the incense (Incense), not to mention (Mention)
Skin like whiskey (Whiskey)
She's cold like on the rocks (Rocks)
La, la-la, la, la-la, la, la
I'm still low, smokin' zaza
Light the incense, lose the tension, feel like Heaven
Lust mixed with a vodka
La, la-la, la, la-la, la, la
Feelings get lost in the lala (Here we go, haha, we in business)

[Outro: Alicia Keys]
*Inaudible*
Ooh, ooh-ooh
Ooh, ooh
La, la-la, la, la-la, la, la
Ooh, ooh-ooh
Ooh, ooh
La, la-la, la, la-la, la, la