Tyga Just Clapped Back At Soulja Boy Over His 'Biggest Comeback of 2018' Claim
18 January 2019, 10:46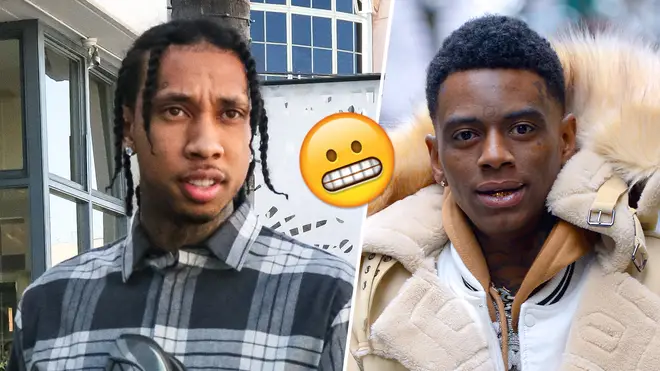 The 'Taste' rapper has responded to Soulja Boy after the 'Crank That' star claimed he had a better comeback than Tyga last year.
Soulja Boy made headlines this week with his explosive interview on Power 105.1's 'The Breakfast Club'.
The 'Crank That' rapper took aim at notable Hip-Hop stars including Drake and Kanye West, before honing in on Tyga, claiming he had a bigger comeback in 2018 than the 'Taste' hitmaker.
"N***as up in here talking about Tyga. Tyga? Tyga? Huh?" Soulja reiterated in an Instagram Live. "Tyga had the biggest - man, get the f**k out of here!"
Tyga soon fired back, and he provided receipts. The Compton rapper shared side-by-side screenshots of his streaming numbers alongside Soulja's. While Tyga amassed 884 million streams, Soulja received 98 million.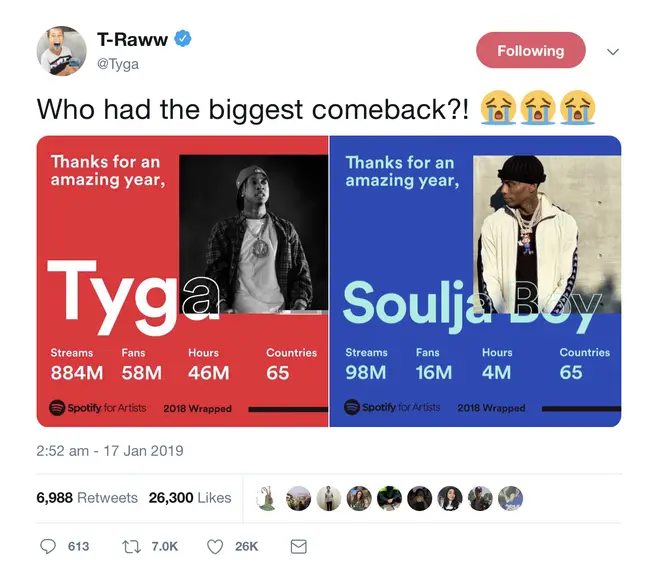 Soulja hit back on Twitter, quoting himself from his infamous Breakfast Club interview. "Tyga.... Tyga?" he wrote, "I HAD THE BIGGEST COMEBACK OF 2018!"
During the interview, Soulja also dragged Tyga over his former relationship with Kylie Jenner and claimed he "lost" her to her current boyfriend Travis Scott, whom Jenner now shares a one-year-old daughter with.
Despite the rivalry, however, Soulja is still after that T-Raww collab. "I love Tyga," said Soulja. "I can't wait to do a record with him but, at the same time, you ain't have no biggest comeback, bruh."