Pusha T Is Dividing Whitney Houston Fans With His "Sickening" New Album Cover
25 May 2018, 10:21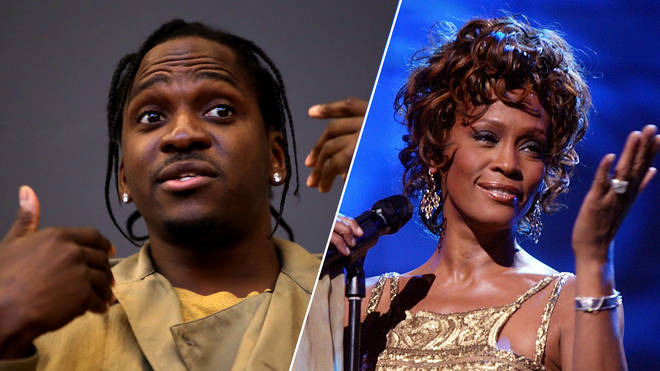 "This is so disrespectful."
Pusha T has just released his new album 'DAYTONA'. Prior to its release, however, it was already receiving mixed reviews thanks to its controversial album artwork.
The cover image is the infamous shot of Whitney Houston's bathroom which circulated major media outlets after the singer was found dead in her bathtub in 2012.
According to Pusha T, Kanye West - who produced the album - spent $85,000 to license the image, which dates back to 2006 and features various drugs and paraphernalia scattered on the counter.
Pusha told Entertainment Weekly that the image "definitely does match the energy of my album," and that is "represents an organized chaos."
"The energy of the album is a bit chaotic, but it's all in place," he continued. "Looks at that cover, I'm sure whoever frequents that bathroom or area knew whatever they wanted to find and knew where it was."
However, after unveiling the image on social media, fans were divided on whether or not the cover was disrespectful.
The fact that Pusha T's new album cover is Whitney Houston's bathroom is highly disrespectful so you know I will not be listening.

— D'Andre McIntyre (@DandreJacquez) May 25, 2018
The Pusha t album cover is unacceptable if it's this Whitney Houston photo.

— Uche from Norwood. (@UcheOfforjebe) May 24, 2018
Pusha T's new album cover is a photograph of Whitney Houston's drug- and debris-strewn bathroom during her crack addiction. What the actual fuck is wrong with you, just take a selfie and fucking go.

— Lauren Martin (@codeinedrums) May 24, 2018
Pusha T using Whitney Houston bathroom photo as an album cover is disrespectful. I wish y'all would let legends Rest In Peace without profiting off of their trails and tribulations.

— j. (@jwhite_64) May 24, 2018
Others hailed the cover as "genius" and suggested that the image could represent the drug-related lyrical content of Pusha's album.
The cover is deep as hell & Kanye is genius. Pusha T has always been a high caliber lyricist who talks that drug talk. However, the cover resembles how the album will illustrate the inner demons & vunerabilty behind the drugs and fame earned. Just like Whitney Houston. Wow. https://t.co/0tUXpKdRJP

— Adejuwon X 𓅓 (@AfricanMalcolm) May 25, 2018
So y'all mad about Pusha T a rapper who talks about nothing but drug dealing using a picture of Whitney Houston's bathroom that's filled with drugs as his album cover?

— Pop Blow (@BlackedOut__) May 25, 2018
Pusha makes rap that is heavily influenced by drugs, and their effects on society. Whitney Houston influence society and used a lot of drugs, makes total artistic sense....

— ryan dahl (@spaced_out84) May 25, 2018
Pusha is yet to respond to the backlash.
'DAYTONA', which was formally named 'King Push', consists of seven tracks and features appearances from West and Rick Ross.
West took to Twitter in the days leading up to the album's release to confirm that the album is the first project to come from his recent recording trips to Wyoming.
"I'm really proud of what we put together. We've spent a year and a half digging for samples and writing," he wrote, "I really appreciate the overwhelmingly positive response that we've been receiving."
Upcoming releases from the G.O.O.D. music label - a solo effort from West, his collaborative project with Kid Cudi and Teyana Taylor's album - are all set for release in June.