Pusha T Responds To Suggestions Drake Could Have Ended His Marriage With Diss
31 July 2018, 11:41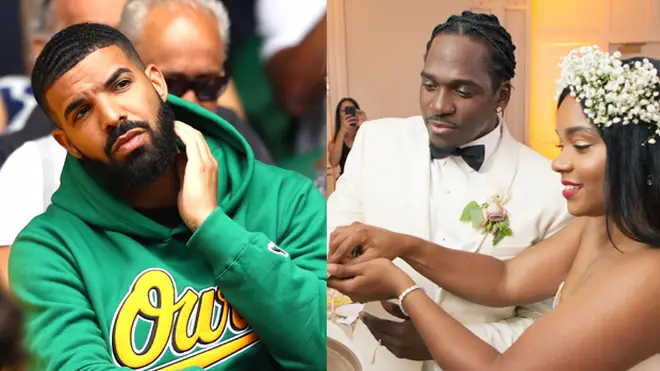 Has the Pusha T and Drake feud just been reignited?
Pusha T has fired back at suggestions that Drake could have potentially ended his marriage to wife Virginia Williams during their heated feud.
The GOOD Music president, who infamously exposed Drake's secret son in his diss track 'The Story Of Adonin', responded to a savage fan under one of his recent wedding pictures.
Under an image of Pusha T and his wife Williams cutting their wedding cake, one fan wrote: "Drake could have ended this marriage if he would have responded."
Another person then responded, writing: "Go take a nap and have a great day."
After seeing the conversation under one of his pictures, Pusha T added: "And you forgot to tell him such a d*ck."
See the interaction below:
Following Pusha T's brutal diss track 'The Story Of Adidon', Drake's mentor J. Prince confirmed that the Canadian rapper had completed a "career-ending" diss response however he didn't not reveal the contents of the song.
Meanwhile, Drake and Pusha T's feud appears to have officially ended following the release of chart-topping album 'Scorpion'.
On the new LP Drake addresses a number of topics including Pusha T, his secret baby, his relationship with the baby's mother and more.
Interestingly, Pusha T has cancelled nine dates on his upcoming DAYTONA tour.
Some are suggesting tickets sales for the tour have been low however there is no confirmation of this.