Meek Mill Reveals How He Found Out Nicki Minaj Blocked Him On Instagram
17 December 2018, 12:46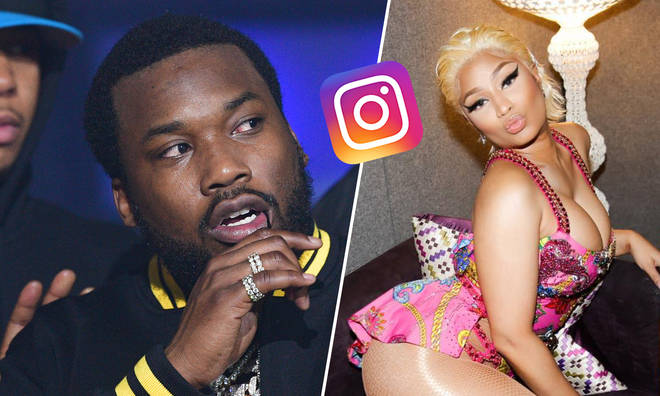 The 'Championships' rapper recently discovered his ex-girlfriend Nicki Minaj - who is now dating childhood sweetheart Kenneth 'Zoo' Petty - has blocked him on social media.
Meek Mill has been blocked by Nicki Minaj on Instagram, according to the 'Championships' rapper.
The 31-year-old rapper and the 'Queen' rapstress called off their relationship at the beginning of 2017, but it appears Meek is just like the rest of us when it come to out exes moving on.
During a Twitter Q&A, Meek responded to one fan's question about Nicki's new boyfriend, Kenneth 'Zoo' Petty, whom Nicki has reportedly known since her teenage years.
"How you feel about Nicki new dude ? Lame weirdo right ?! lol," wrote the fan. It was recently reported that Petty was once convicted for attempted rape, before later serving time in jail for manslaughter.
In response, Meek admitted to snooping on Nicki's new man by heading over to her profile, before making the discovery that he has been blocked.
"I don't feel nothing ... and I don't know that man to judge him ... I went to check him out on her page and found out I was blocked," he wrote.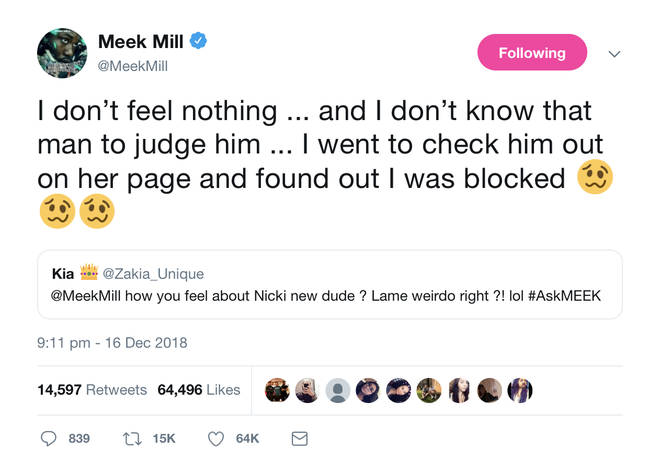 Nicki is said to be talking about "marriage and babies" with Petty already, despite only being together for two months. Minaj is yet to respond to Meek's tweet.
Elsewhere during the Q&A, Meek refused to speak on Kanye West's recent beef with Drake, which is now said to be patched up.
"Nothing .... " he said when a fan asked what he thought of the feud. Meek famously reconciled with his former enemy Drizzy earlier this year and later collaborated on their new song 'Going Bad'.