Meek Mill Reveals His Honest Opinion On Drake's Beef With Pusha T
5 December 2018, 15:50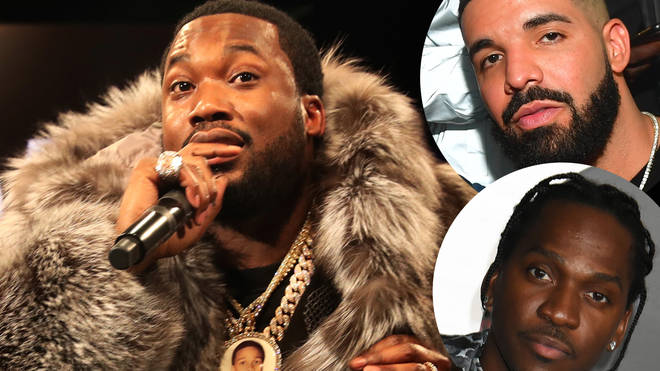 The 'Championships' rapper - who had his own public beef with Drake a couple of years ago - spoke candidly about the 'In My Feelings' rapper's feud with Pusha T after Drake said Push went "too far".
Meek Mill and Drake finally ended their infamous beef earlier this year. And now, it seems, Meek is ready to talk about another of Drizzy's highly-publicised feuds.
The 31-year-old rapper, who dropped his star-studded new album 'Championships' last week, directly addressed Drake's beef with Pusha T after Drake argued that Pusha went "too far".
Push famously took a swipe at Drake's producer and close friend Noah '40' Shebib over his health condition. Others argued that the 'Daytona' rapper took things to far by dissing Drake's parents and exposing his secret child.
However, Meek argued that rap battles know no bounds when it comes to disses."Ain't no such thing as going too hard. I would tell Drake that when I see him, too," he told Angie Martinez.
"I'm just tellin' you, I'm come from where n***as sayin', 'We will smoke your mom.' Like, 'We will lay on your mom and smoke her. Your dad is a rat. Your sister is a h*e.'"
Meek also referenced the memes and coverage that followed his beef with the Canadian hitmaker. "It wasn't no rules on me," he said. "They got memes, all types of sh*t going on. I don't know what to do. I'm in the mix. I'm confused now."
"Ain't no rules, though," he added. "You can take any stance you want, you can do it how you want. Just, you know, continue your legacy and be great.
"We're going to see all at the end, five years from now, 10 years from now, who is going to continue to be great. We're gonna have some shootouts sometimes, you know what I mean? But as long as you make it home, that's all that matters at the end of the night."
Meanwhile, Drake was just one of the names to appear on Meek's new album, with the 'In My Feelings' rapper jumping on their collaboration 'Going Bad'.