Iggy Azalea Slams Wendy Williams For Mocking Her Fight With Bhad Bhabie
21 November 2018, 14:38 | Updated: 21 November 2018, 14:42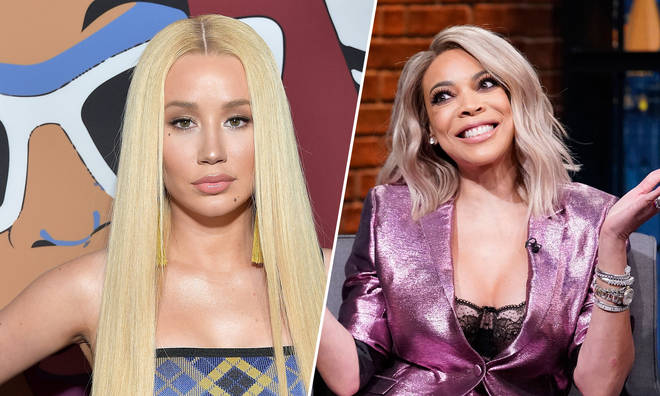 The 'Fancy' rapstress launched a scathing tweet attack at talk show host Wendy Williams after she commented on Iggy's recent feud with Bhad Bhabie, which saw the 15-year-old hurl a drink at Iggy's head.
Iggy Azalea isn't taking any heat from Wendy Williams. The 'Fancy' rapper fired back at the talk show host following her comments on the rapper's beef with Bhad Bhabie.
Last week, Iggy and the 15-year-old starlet, real name Danielle Bregoli, exchanged shots over social media, before their feud came to a head when Bregoli threw a drink at Iggy at Cardi B's Fashion Nova launch party.
Iggy, 28, spoke about the incident on Instagram after the event and took jabs at Bregoli, before detailing the altercation on Twitter. Bregoli fired back on Instagram, and, later, Wendy Williams waded in.
On her eponymous talk show, Williams questioned Iggy's Australian accent and made comments on the the rapper's body, before arguing that Iggy is too old to be beefing with Bregoli.
"Isn't she from Australia? When did she develop a 'blaccent'?" Williams began. "She probably bought that at the same place she bought her booty and her boobs. Oh please, that is a coin well spent."
Despite later adding that she finds Iggy "beautiful", the 'Black Widow' rapper wasn't having it, and went on to slam Williams in a series of tweets. "Imagine having to f*ck Wendy Williams," she wrote.
She attached a gif of Williams dressed as the Statue Of Liberty during the infamous episode where she passed out last year. "Like you gotta hear her moan and put a t*tty in your mouth."
"I guess I just feel like if you're pushing 60 without ever having lived an entire year on this planet where we could deem you attractive let alone a serve with a voice that would make any d*ck soft – you should keep it a whole lot cuter on certain commentary," she added.
Iggy has since deleted the tweets, and Williams is yet to comment. The 54-year-old personality recently came under fire from rapper Future after she commented on his recent relationship issues.
The 'Mask Off' rapper clapped back after she scolded him for having so many "baby mothers".