Iggy Azalea Responds After Bhad Bhabie 'Throws A Drink' At Her At Cardi B's Party
15 November 2018, 11:10 | Updated: 15 November 2018, 15:34
The 'Fancy' rapstress took to Instagram to call out the 'Gucci Flip-Flops' starlet - who rose to fame as the 'Cash Me Outside' girl on Dr. Phil - at a recent event for Cardi B's Fashion Nova line.
Iggy Azalea has fired back at Bhad Bhabie following an alleged altercation at the launch event for Cardi B's new line with Fashion Nova.
The 28-year-old rapper took shots at 'Gucci Flip-Flops' starlet, who rose to fame on Dr. Phil's eponymous TV show as the viral 'Cash Me Outside' girl, after she reportedly "threw a drink" at her.
During the event, Iggy took to Instagram to show off her long blonde wig, one side of which appears to be drenched. "Am I just going to have a half and half wig for the rest of the night?" she joked.
"So the dr Phil girl is really upset about me apparently and thought I'd fight a child?! LOL Anyway! The fashion nova party is LIT," she captioned the video, before she honed in on the 15-year-old rapper.
"What kind of Jerry Springer? What kind of 'whose baby is this' Dr. Phil a** sh*t. Oh my god. I'm a grown up, I cannot."
Watch footage of the incident below:
The run-in comes after Bhad Bhabie, real name Danielle Bregoli, recently took a jab at Iggy after her tour was cancelled, which was a response to Iggy shading her on Instagram.
Iggy later filmed herself driving home from the event with some savage words for Bregoli. "I get that this little girl has made a name for herself acting a damn fool on television and online," she began.
"But I'm a grown up! I'm not about to waste my energy on that sh*t or be fighting a kid in a club. Come on, I'm here to get a bag. I have to laugh. I don't know, I just think people want clout really bad. 
"Mama, good luck with your career. You're young, you're gonna look back on this and gonna really feel dumb. I came to get a cheque I left with a cheque, you left with your bag stopped over there and you look silly!
"I'm not gonna be scrambling around on the floor for a fifteen year old girl on the Internet. I don't know I think that sh*t's lame as hell, but maybe it's because I'm a grown up."
Iggy went on to detail the event on Twitter, claiming that she was taking some pictures when she "felt water thrown on [her] wig." She refused to leave the area until Bregoli "removed". Iggy claimed Bregoli was then escorted out.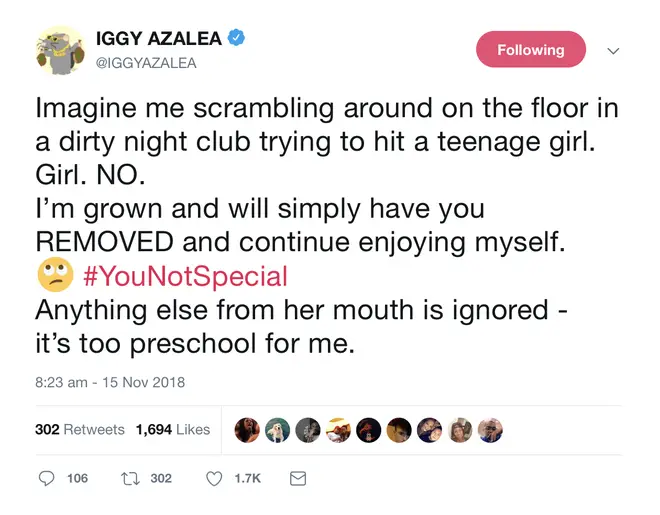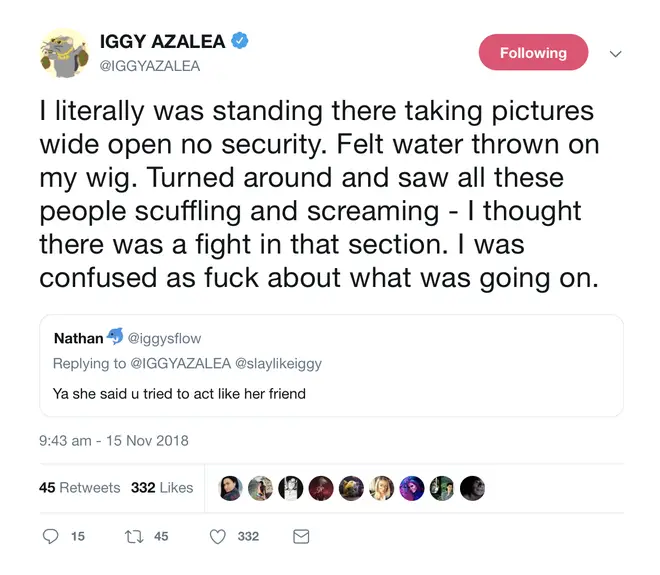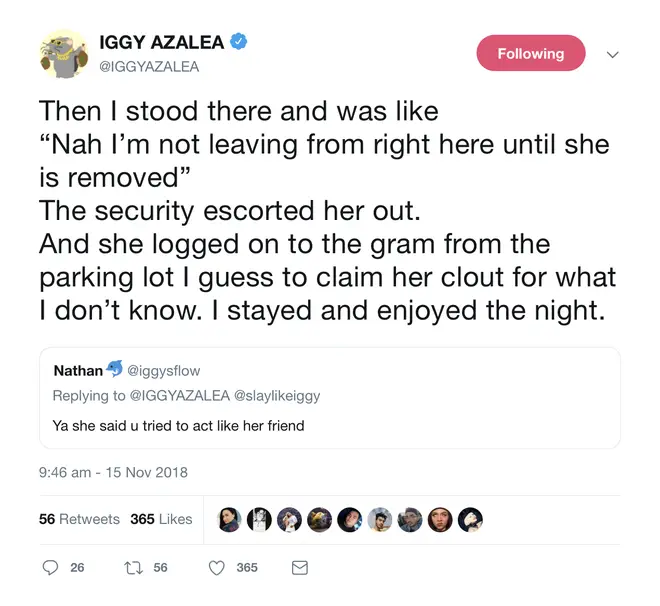 Bregoli later took to Instagram Stories, writing, "Don't talk s**t on the internet Iggy u a b**ch just mad at 15 year old outsold your a**. NEXT."
"Bye broke b**ch, bye hoe. Glad u left wit a bag cuz u certainly ain't making no money from music anymore," she wrote.