Eminem Reveals The Real Reason Why He Dissed Drake On 'Kamikaze'
17 September 2018, 10:30 | Updated: 18 September 2018, 13:04
The rapper has clarified his comments.
Eminem has explained why he name-checked Drake in his explosive track 'Kamikaze'.
The Detroit rapper sat down with Sway Calloway for Part Four of 'The Kamikaze Interview' and clarified the real meaning behind the shady line allegedly aimed at Drizzy.
Many listeners assumed that Eminem was firing shots at the OVO hitmaker on the song 'Lucky You' when he rapped about certain unnamed artists using ghostwriters, a claim that often follows Drake.
"I got a couple of mansions / Still I don't have any manners / You got a couple of ghost writers / But to these kids it don't actually matter / They're askin' me, "What the f**k happened to hip-hop?" / I said, 'I don't have any answers.'" he spits.
Following the speculation, Eminem stated that this assumption is false and denied dissing Drake altogether, adding that the 'Nonstop' rapper was once kind to one of his daughters.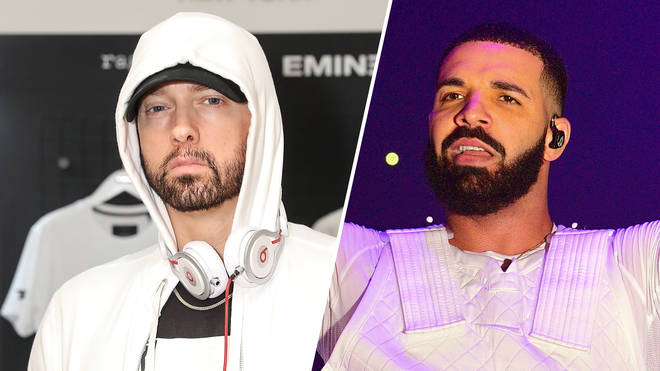 "Drake is going to always be in my good graces, because he did something for one of my daughters that I will never forget and he will always be in my graces for that," Eminem said.
"And I like Drake. What I'm telling you with these lines is, I don't know what's real and what's not, at this point. Because you hear s**t about this rapper, that rapper, whatever."
"I'm telling you that I don't do it," he noted. "Never have and never will. If I ever need a ghostwriter, I need to just f**king put the mic down." He added that Drizzy "makes great music."
Drake is yet to respond to the comments. Meanwhile, Eminem released his new diss track 'Killshot' aimed at Machine Gun Kelly over the weekend amid their ongoing beef.
The track prompted MGK to subsequently mock Shady on stage, suggesting that the track "missed" its intended target whilst holding a middle finger up to the camera whilst wearing a t-shirt with the song's artwork on it.