Machine Gun Kelly Mocks Eminem On Stage Following 'Killshot' Diss Track
17 September 2018, 10:24 | Updated: 17 September 2018, 10:48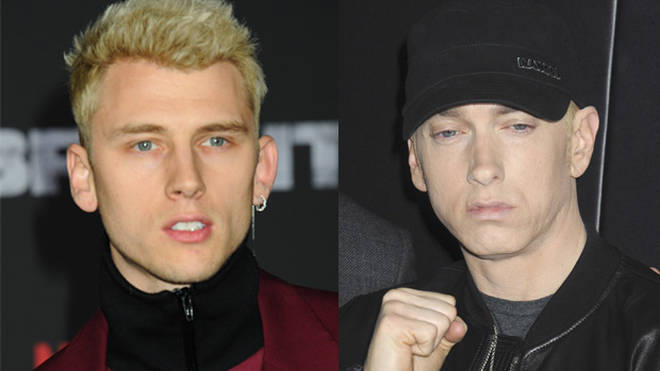 MGK has clapped back at Eminem...
Machine Gun Kelly has mocked Eminem on stage following the release of brutal diss track 'Killshot'.
The rapper, who previously released his own 'Rap Devil' diss track at Eminem, appeared unfazed after being subjected to a series of savage lyrics about his life and career.
In the direct aftermath of the diss, MGK took to Instagram to suggest that Eminem's 'Killshot' "missed" its intended target.
During a show at Florida's Amway Center, the rapper and his fans sent another clear message to Eminem.
Posing for a picture on stage, he held up a middle finger to the camera, while his fans followed suit.
He also wore a t-shirt featuring the official 'Killshot' artwork.
See the post below:
"He missed," wrote Machine Gun Kelly on Instagram, before pointing out that 'Rap Devil' was still top of the iTunes charts.
Eminem surprised fans with the release of his anticipated Machine Gun Kelly diss 'Killshot' on Friday night.
However he received a backlash from some fans after joking that Diddy payed for Tupac to be murdered.
Iggy Azalea also suggested that Eminem's lyrics were "lazy" after she was also mentioned on the song.