Eminem Slammed For Accusing Diddy Of Having Tupac Murdered On 'Killshot' Diss
15 September 2018, 13:37 | Updated: 15 September 2018, 13:41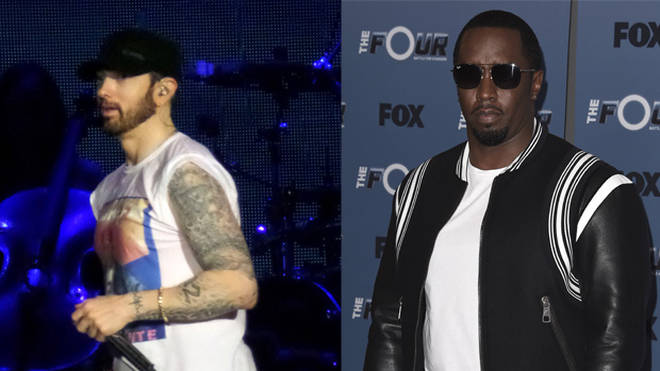 Diddy is yet to respond...
Eminem is being criticised by fans after joking that Diddy was responsible for the murder of Tupac.
On his new Machine Gun Kelly diss track 'Killshot', Eminem rapped: "Kellz, the day you put out a hit is the day Diddy admits that he put the hit out that got Pac killed."
He later clarified the controversial lyric later in the song, rapping: "You know I'm just playing Diddy / You know I love you."
However after the song went viral, Eminem was slammed by people on social media.
Rapper Jay Electronica tweeted: "@eminem, how dare you accuse diddy of killing tupac while you completely look pass jimmy iovine and those who profited from his death the MOST."
"You best tread carefully Son, before i come tear your ivory tower down like Sulaiman done the Templar Knights. #ripProof."
Electronica then shared a video of Minister Louis Farrahkhan and claimed he had to call out Eminem for his involvement in trying to end the feud between 50 Cent and Ja Rule.
"Remember this was the very video i had to check you on before for blaspheming the Minister in the midst of him trying to bring Jarule and 50 to peace. Tread carefully @eminem," he tweeted.
Fans have also addressed Eminem's lyric about Diddy:
Diddy is yet to respond to Eminem's 'Killshot' diss track.
However Iggy Azalea, who was also name-dropped on the song, has fired back.