Iggy Azalea Responds To Being Mocked On Eminem 'Killshot' Diss Track
15 September 2018, 11:30 | Updated: 15 September 2018, 13:04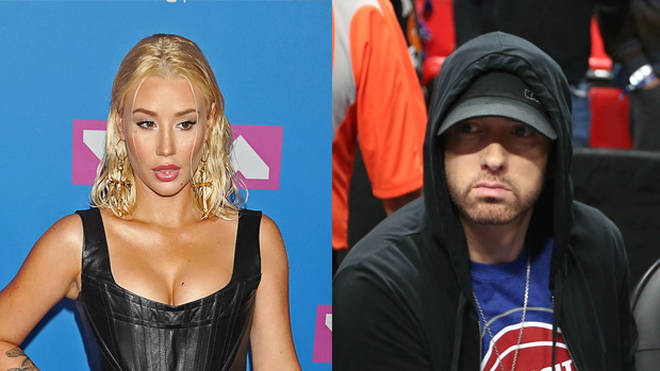 Iggy has had enough of Eminem's name-dropping...
Iggy Azalea has responded after being called out by Eminem on his new Machine Gun Kelly diss track 'Killshot'.
The 'Fancy' rapper appeared to be caught up in the cross-fire of their feud, with Eminem taking a cheap shot at her while dissing MGK.
"You ain't never made a list next to no Biggie, no JAY / Next to Taylor Swift and that Iggy ho," he rapped on the track.
"You about to really blow / Kelly, they'll be putting your name next to Ja, next to Benzino / Die, mother*cker, like the last mother*cker saying Hailie in vain."
After the song quickly went viral, Iggy Azalea fired back at Eminem on social media.
"Diss songs shouldn't be filled with celebrity name drops to pad out lazy bars,"she tweeted to her fans.
"And that's my unbiased opinion from a girl that watched this guys set and sung the words in the crowd. I'd think it regardless," she said.
"One of the greatest to do it, I'm NOT in dispute about that. But I do think the name dropping thing has become a [crutch]."
She continued: "Also let's talk about why it's lazy now; but wasn't in the earlier work … The earlier stuff was crazy, twisted and creative. This stuff feels more like picking names that fit easily into a rhyme scheme."
After being mocked by Eminem fans, Iggy replied: "Iam beyond prepared to be trolled for this opinion. Hahahahaha."
"Y'all mad as f*ck! I said what I said!"
This is the second time Iggy Azalea has been subject to an Eminem diss, after being dissed on Bad Meets Evil song 'Vegas', which appeared on 2014 project 'Shady XV'.
Eminem rapped: "So swallow my pride, you're lucky just to follow my ride / If I let you run alongside the Humvee / Unless you're Nicki, grab you by the wrist, let's ski / So what's it gon' be / Put that shit away, Iggy / You don't wanna blow that rape whistle on me."
At the time, Iggy replied: "Iggy fired back and blasted Em for his threats. "I'm bored of the old men threatening young women as entertainment trend and much more interested in the young women getting $ trend. Zzzz."