Nick Cannon slammed for "Eminem should have died over Juice WRLD" diss track lyric
11 December 2019, 15:38 | Updated: 11 December 2019, 16:06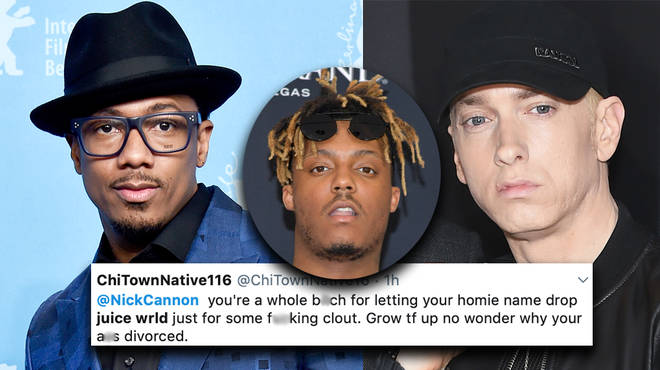 Wild 'N' Out host Nick Cannon has been slammed for a lyric in his diss track to Eminem, which references Juice WRLD's death.
Nick Cannon has been slammed after releasing a second diss track aimed at Eminem, where the lyrics addresses the death of Juice WRLD.
The Wild 'N' Out rapper released a second diss track, after 'The Invitation", where Cannon called out Eminem for his ex-wife Kim Mathers and his daughter, Hailie.
In the second diss track, Nick and The Black Squad digged at Eminem, for his feuds with Pink, Britney Spears and NSYNC, as well as referencing Juice Wrld's death.
The diss track titled "Pray For Him" includes a line from Prince Eazy rapping: 'I'm sick of all my homies keep dyin', might puke Earl, God should've took Em and just let us keep Juice WRLD.'
Many fans on Twitter have responded angrily to the lyric referencing Juice WRLD's death. One fan wrote "It wasn't Nick Cannon who said the "Juice Wrld thing", but he & everyone else on that song should be held accountable."
"That was disgusting and distasteful. Juice wrld isn't even in the ground yet. Plus, wishing death on Eminem like that is unnecessary. That song belongs in the bin". See other fans tweets below.
nick cannon and the so called "amazing battle rappers" in big 2019 wishing Eminem overdosed instead of Juice WRLD....wishing someone to die doesn't just make you a clown, it makes you a miserable trash a$$ bxtch. F*ck nick cannon and his whole crew#ripnickcannon

— Shady Times (@ShadyTimes) December 10, 2019
Nick Cannon really just said that they should of took Eminem and kept Juice WRLD..Jesus Christ, how disrespectful can you get? A poor man has lost his life and people are really out there using his life as an insult because of a little beef. This world disgusts me.

— TomDavies (@TomDavies95) December 10, 2019
So I just heard the Nick Cannon diss tracks to Eminem and wth 😭 bruh had his homies rap for him 💀💀 & I wasn't fw that "God shoulda took Em and let us keep Juice WRLD" line 😐

— 𝙹𝚊𝚡𝚜𝚘𝚗 ☆ (@badkxrma_) December 11, 2019
AYO DID NICK CANNON REALLY JUST SAY "SHOULD'VE TOOK EM AND LET US KEEP JUICE WRLD"

— Harassing Anthony Fantano With Post Malone (@theharassdrop) December 10, 2019
The second diss track comes after Eminem retaliated to Nick Cannon's first diss track "The Invitation". Eminem dissed Cannon, claiming he's "whipped" over his ex Mariah Carey.
Cannon then took to social media to taunt Eminem on Twitter, whereby, the Detroit rapper responded.
Nick and Eminem's feud died down for a decade, however, Em – real name Marshall Mathers – reignited their beef over the weekend when he released a new song, Lord Above, with Fat Joe and Dre.