Eminem fires shots at "whipped" Nick Cannon over ex Mariah Carey in new diss
6 December 2019, 12:56 | Updated: 6 December 2019, 13:05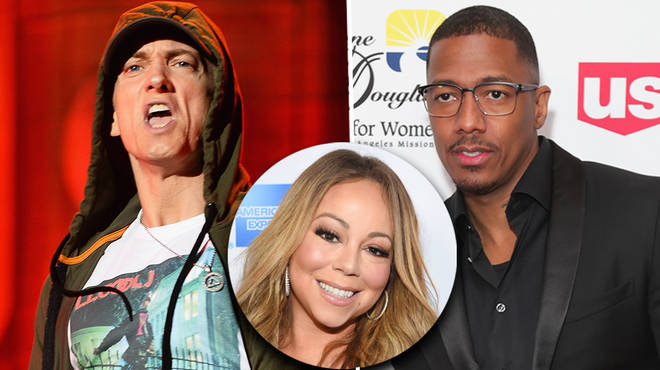 The Detroit rapper has brutally taunted Nick Cannon with ex-girlfriend Mariah Carey, in Fat Joe's new track "Lord Above".
Eminem is known for bringing the fire in his diss tracks. With this one, the Detroit rapper did not hold back. The 47-year-old rapper went in on Nick Cannon on a song from Fat Joe's new Family Ties album.
On Friday (Dec 6th) Fat Joe released his LP which features the track "Lord Above" which features producer Dre and Mary J. Blige. However, Em's verse on the track has created some tension.
In the track, Em throws shade at Nick Cannon using singer Mariah Carey, who they both once dated. Further on in Em's verse, he directly addresses Cannon, letting him know that he's "taking shots" at him.
Em raps "Word to the Terror Squad, Joe, this is all puns aside though/I know me and Mariah didn't end on a high note," he rhymes on the track.
"But that other dude's whipped, that p**sy got him neutered/Tried to tell him this chick's a nut job before he got his jewels clipped"
"Almost got my caboose kicked, fool, quit, you not gon' do sh*t/I let her chop my balls off, too 'fore I lost to you"
"Nick/I should quit watchin' news clips, yeah/My balls are too big, I should be talkin' pool/'Cause I got scratches on my pocket, fall when I'm takin' shots at you."
In 2009, Em and Nick Cannon's beef began while Nick was still married to Mariah Carey and Em called them out on the song "Bagpipes From Bagdad."
Their beef was continuous and even led into a proposed fight. However, the beef eventually simmered down.
Although, in September, Nick said he would whoop Eminem's ass when opening up about their beef.
In a recent interview with Sway, Fat Joe warned his fans about the track. "[It's] the most disrespectful song; Eminem has not rhymed like this in years".
Listen to Fat Joe's new "Lord Above" track featuring Eminem and Mary J. Blige above.