Machine Gun Kelly Reveals He Has A Secret Unreleased Diss Track Aimed At Eminem
21 September 2018, 11:39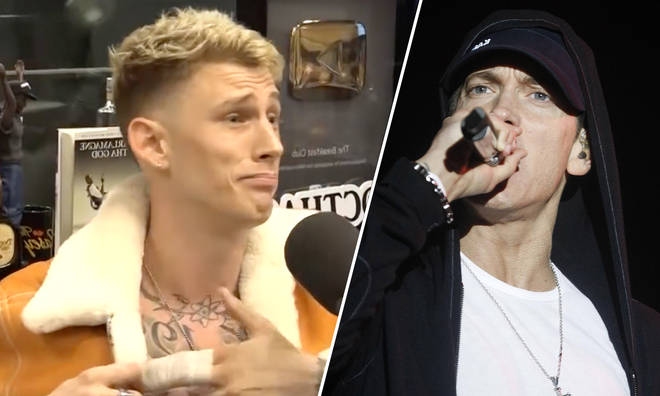 The rapper brushed off Shady's 'Killshot' diss track during a new interview.
Machine Gun Kelly has responded to Eminem's latest diss track 'Killshot' - by dismissing it altogether.
The Cleveland rapper sat down for an interview with The Breakfast Club on Power 105.1 to discuss the highly-publicised beef and revealed that he had another diss track ready and waiting.
"I had a clip ready," Kelly confessed, before claiming that upon hearing Shady's response to 'Rap Devil', he shelved it. "I heard 'Killshot' and I put that sh*t back in the holster."
"He called me a mumble rapper?" he questioned, before rating 'Killshot' a six out of ten. "'Killshot' was a leg shot. With 'Rap Devil,' we're talking about facts while you want to talk about man buns? Answer the f**king facts."
"You want to talk about a hair style I wore in a blockbuster movie?" he added, "And a 10-episode Showtime series called Roadies? I'm an actor, homie. How disconnected are you?"
Watch the full interview below. The above comments can be heard at around the 16 minute mark.
Elsewhere during the interview, Kelly claimed that he apologised to Eminem for calling his daughter Hailie - who was 16-years-old at the time - "hot as f**k" six years ago, around the same time he made the comment.
"Truth be told, we had handled it behind the scenes six years ago," he revealed, before confessing that he didn't confront Eminem directly to apologise.
"No. He's a recluse, we can't find him. We didn't speak. I spoke to Paul Rosenberg [Eminem's manager] and his team because that is as man-to-man as it gets with him."
Eminem is yet to respond to MGK's recent comments.