This Conspiracy Theory About Eminem & Machine Gun Kelly May Prove Their Beef Is Fake
19 September 2018, 10:45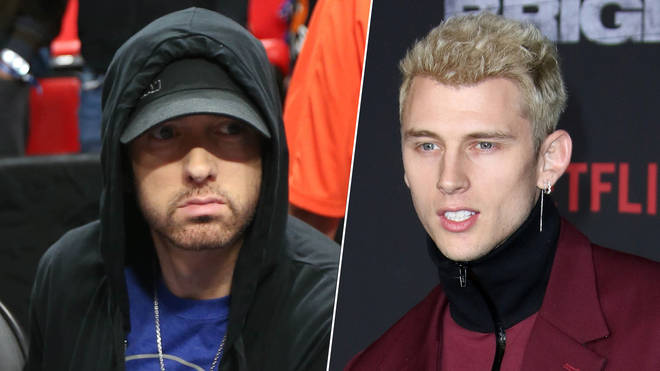 Is it for real?
If you've been keeping up with the beef between Eminem and Machine Gun Kelly, you'll know that the rival rappers are still very much at loggerheads.
Eminem fired shots at the Cleveland native on 'Kamikaze' and Kelly fired back with the surprise diss track 'Rap Devil' - the tracks, it turns out, were produced by the same person.
Shady's fiery diss track 'Killshot' followed, and fans have been speculating as to what Kelly's next move will be. Some, however, are thinking that the beef isn't all quite what it seems.
As many Twitter users have pointed out, both Eminem and Machine Gun Kelly are signed to Interscope, leading people to suggest that the 'beef' is a money-making ploy created to benefit the label, as well as promote both artists.
It's also been noted that MGK is releasing a new project on Friday (21st September), so the alleged pre-orchestrated feud could work in his favour in terms of promotion.
Just to let you know how business works...Eminem and MGK are both signed to INTERSCOPE RECORDS...if I have to say anymore to explain this you're too stupid to by my fb friend

— Edward Bose (@edwardbose) September 18, 2018
That it's all a ploy to get both of their sales up because they are both under interscope records and thats the only reason; MGK has a new EP on the 21st

— Serenity (@SerenityDnB) September 19, 2018
MGK & Interscope Records staged this beef with Eminem so he can get buzz they told MGK ahead of time that Eminem was coming out with a surprise album Eminem had no idea about it but it's designed to work in both their favor especially MGK's

— Greg (@TheresOnly1Greg) September 19, 2018
Eminem and MGK are both signed to Interscope and both used Ronny J as a producer on their diss tracks.#AlbumPromo

— Tyler Jordan (@iamTylerJordan) September 18, 2018
It's all inside work both have dealings at Interscope MGK and Eminem what better way of giving his career a breath of fresh air is dissing one of the larger acts on the imprint

— #WestheimerSuperstar (@Frig_BK) September 17, 2018
Both Eminem and Machine Gun Kelly are yet to addressed the theory.
Following Shady's 'Killshot' diss, MGK took to the stage during his support slot on Fall Out Boy's tour to mock the Detroit rapper by holding his middle finger to the camera, wearing a shirt with the 'Killshot' artwork on it.
At the time, footage of the concert was posted online and appeared to show the crowd booing when MGK mentioned Em's name.
However, fresh claims are now suggesting that Eminem fans edited the footage and inputted their own boos before ending them to media outlets. This is all speculation at the moment.