Eminem & Machine Gun Kelly's Diss Tracks Were Produced By The Same Person
18 September 2018, 10:45 | Updated: 18 September 2018, 10:46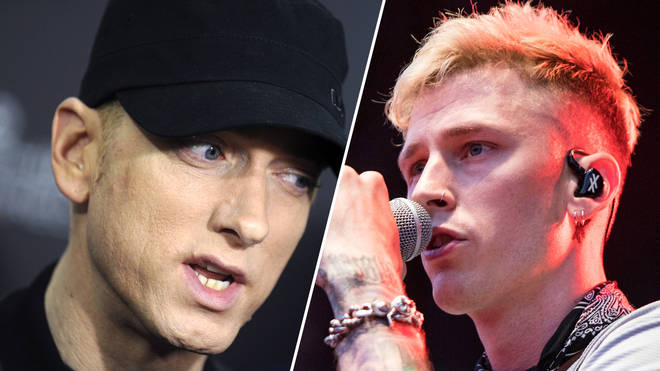 Wait, what?!
Eminem and Machine Gun Kelly have been going back and forth for weeks now, and it's seems fans are dissecting every little detail as the beef progresses.
After Eminem name-dropped MGK on his new album 'Kamikaze' for talking about his daughter, the 28-year-old rapper speedily hit back at Shady with his own diss track 'Rap Devil'.
Eminem replied with his diss track 'Killshot', before MGK mocked the Detroit rapper by wearing the artwork of the track on stage during one of his recent shows.
And now, a group of eagle-eyed fans have exposed another surprising piece of the puzzle - 'The Ringer' and 'Not Alike', Eminem's songs that kickstarted the beef, are produced by the same person who made MGK's 'Rap Devil'.
Ronny J, also known as Ronald Spence Jr, is credited as a producer on Shady's material, and both a producer and a writer on 'Rap Devil' thanks to his 'OMG Ronny' tagline.
Some sceptical fans are now wondering whether the whole beef was pre-planned in order to promote Kelly and Eminem's new music, while others remain convinced that the rap war is real.
Emiem/MGK beef is a scam to promote their albums. (Kamikaze and Binge). Ronny J and Ronald Spence Jr. are the same person. He co-wrote and produced "Rap Devil" for MGK and did production on "Not Alike" (Eminem's diss to MGK on Kamikaze) and "The Ringer" for Eminem. pic.twitter.com/Fum4RWQ0GW

— Ryan Fairbanks (@RFairbanks9) September 17, 2018
Ronald Oneil Spence Jr., professionally known as Ronny J, is an American record producer, rapper, and songwriter. He is best known for his production work with rappers Denzel Curry, XXXTentacion, Smokepurpp, and Lil Pump. pic.twitter.com/8SEF5p7GEN

— 👽Adonis (@jadoniss) September 16, 2018
In addition, Ronny J also produced Bhad Bhabie's track 'Hi Bich', the song that people were claiming Eminem ripped off on 'Not Alike'.
Following the release of 'Killshot', Em received backlash after joking that Diddy was responsible for the murder of Tupac.