Jay Electronica Mysteriously Disappears From Social Media Following Eminem Diss
18 September 2018, 10:41 | Updated: 18 September 2018, 10:51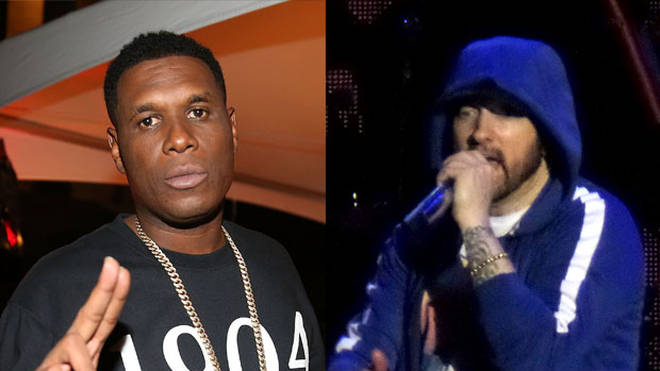 Fans are confused.
Jay Electronica has mysteriously disappeared from Twitter days after slamming Eminem over his 'Killshot' diss track at Machine Gun Kelly.
The rapper was furious after Eminem jokingly claimed that Diddy paid for the murder of Tupac.
Taking to Twitter, he threatened Eminem and warned him about his future conduct regarding the topic.
However after a huge social media debate ensued, Jay Electronica has deactivated his Twitter account.
It's not currently known why the rapper has decided to disappear from social media.
Following his initial Twitter outburst, Eminem-affiliated rapper Royce Da 5' 9 took to Instagram to warn other rappers about dissing Em.
"I dare one of you n*ggas to write sum'n... Ima light yo ass up like a jack o lantern. Mind ya bizness," he tweeted.
I dare one of you niggas to write sum'n... Ima light yo ass up like a jack o lantern. Mind ya bizness

— 6God (@Royceda59) September 14, 2018
While other continued to debate the real meaning behind Eminem's lyrics about Diddy.
Em accused Diddy of killing Tupac while he completely look pass Jimmy Iovine
profited from his death the MOST em also out here dry stitching on puff SMH

— Monsta Ham (@MonstaHam) September 18, 2018
Did Eminem just say that Diddy put out the hit on Tupac!? Hold tf up....

— We$t (@CjayyTaughtHer) September 14, 2018
That Diddy line Eminem said is simply shock value. Everyone knows who killed Tupac and why he was killed. He got involved into LA politics, period.

— Trizz (@Tr1zz) September 15, 2018
Diddy ain't get Tupac killed. Tupac got Tupac killed.

— Instagram 👉🏾 asktrillac (@AskTrillAC) September 14, 2018
Eminem is yet to respond to the backlash.
However after hearing 'Killshot', Machine Gun Kelly has fired back twice, calling the diss track "weak" and then sending Eminem a disrespectful message on Instagram.