Chance The Rapper Reveals The Adorable Story Of How He Met His Future Wife
7 March 2019, 15:00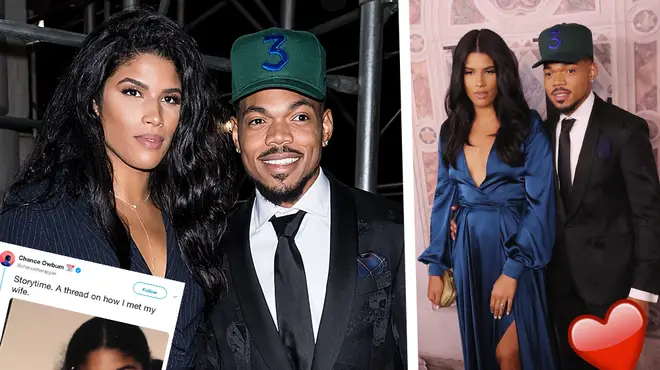 Chance The Rapper posts the most adorable story of when he met his soon-to-be wife, while plans are in order for them to get married this weekend...
Chance The Rapper left social media in total awe of him and his fiancée Kirsten Corley, after posting the cutest thread on Twitter. He shared an adorable detailed story of when he first met his fiancee and soon to be wife, Kirsten Corley.
Chance The Rapper New Album 2019: Release Date, Songs, Tracklist & Everything You Need To Know
The soon-to-be married met when Chance was just 9 years old when his dad brought him to an office party. While Chance was at the office party, Kirsten and her two girl friends performed a Destiny's Child song for the crowd. The moment came where Chance laid his eyes on Kirsten and he knew she was going to be the girl he marries.
Just yesterday, Chance The Rapper took to social media to share the cutest memories of how he met his fiancée Kirsten. The The "Angels" rapper posted a photo of Kirsten when she was a little girl on Instagram and gave a detailed story on Twitter.
The Chicago rapper tweeted:
"Now I'm locking eyes with the prettiest girl I ever seen in my almost-a-decade of life on earth,". The "No Problem" rapper explained how he was "shy" and nervous to approach his crush when he was younger because he knew that she will forever be the one.
Chance posted a 4 page thread which was a screenshot of his notes on his phone. The rapper revealed that he was nervous to approach his crush at first, "Not just because it wasn't my party, not because it was their moment to dance, not even cause I was nervous about dancing in front of folks," he wrote.
Chance continued "It's cause I knew I was gonna marry that girl. And I aint [sic] wanna jump the gun … so I … moved to the back of the crowd and never even introduced myself."
Kirsten's soon-to-be husband ended his Twitter story announcing that this weekend he will finally be marrying the love of his life. In complete awe of his fiancée, Chance wrote: "16 years later it's happening,"
The rapper continued saying "This wknd is the time, and the place is my wedding. I'm gonna dance with my wife because this is my destiny."
Chance The Rapper popped the question to his long-time girlfriend Kirsten, on July 4th 2018. Celebrating American Independence Day, getting proposed to was the last thing Kirsten expected. In the video, she seems shocked and overwhelmed.
In the video, loved ones can be overheard screaming with excitement as Bennett asks Corley, "Will you make me a man and be my wife?"
After Kirsten said "yes", Chance called over their daughter, Kensli, while Corley showed off her engagement ring. The couple have been dating since 2013.
Now, they are set to be getting married this weekend...