Lana Del Ray & Azealia Banks Are Savaging Each Other In A Wild Twitter Beef
10 October 2018, 12:56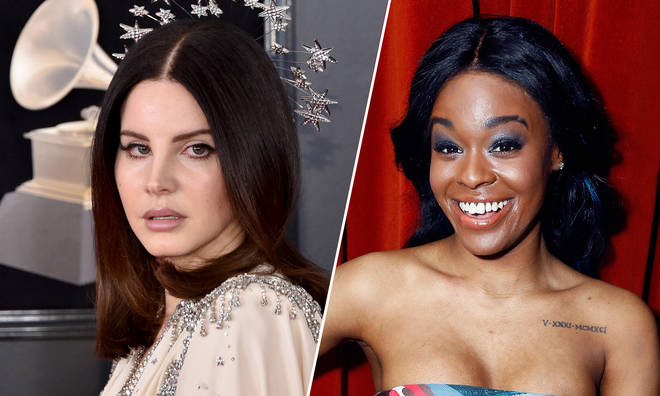 The 'Summertime Sadness' singer threatened to "f*ck up" the '212' rapper during a fiery Twitter exchange between the pair, following Lana's comments on Kanye West's support of Donald Trump.
Lana Del Rey and Azealia Banks are currently embroiled in a bizarre Twitter feud.
The beef was sparked after the '212' rapper caught wind of the 'Summertime Sadness' singer's recent comments on Kanye West's endorsement of US President Donald Trump.
"If you think it's alright to support someone who believes it's OK to grab a woman by the p*ssy just because he's famous-then you need an intervention as much as he does," Lana rounded off her rant following West's recent actions.
In response, Azealia tweeted, "Wow okay Lana, this would be cute if you were consistent with your outrage and refused to collab with ASAP Rocky who has physically assaulted women too.
"Looks like the typical white woman taking using a weakened target to 'pretend' to be an ally.'" Her criticism went on over a number of lengthy tweets, where she added, "Your selective outrage makes YOU the enemy.
"You approve of ASAP Rocky because his victims weren't white. You're exactly the kind of thought police Kanye is fighting against."
This didn't sit well with Lana, who fired back by challenging Azealia to fight. "U know the addy. Pull up anytime. Say it to my face. But if I were you — I wouldn't," she tweeted. "I won't not f*ck you the f*ck up. Period."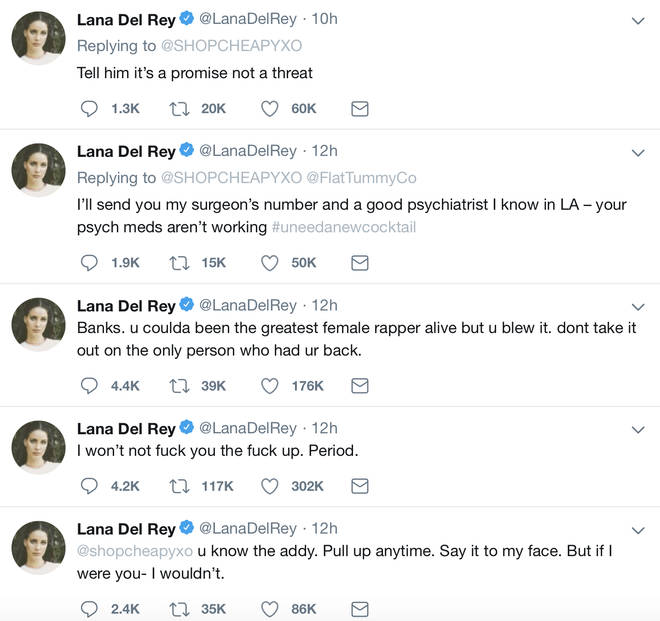 "U coulda been the greatest female rapper alive but you blew it. Don't take it out on the only person who had your back," wrote Lana, before adding that the rapper's "meds aren't working."
Banks fired by by slamming the singer's appearance in a series of savage tweets, while Lana offered the rapper her surgeon's content details and a number for a good psychiatrist.
"The same one that got you hooked on oxy? No thanks sis.... you're on your own with that," Banks retorted.
"Never get plastic surgery on your face, without consideration for how it fits with your body! A 27 year old face means nothing when you've got a 60 year old body!"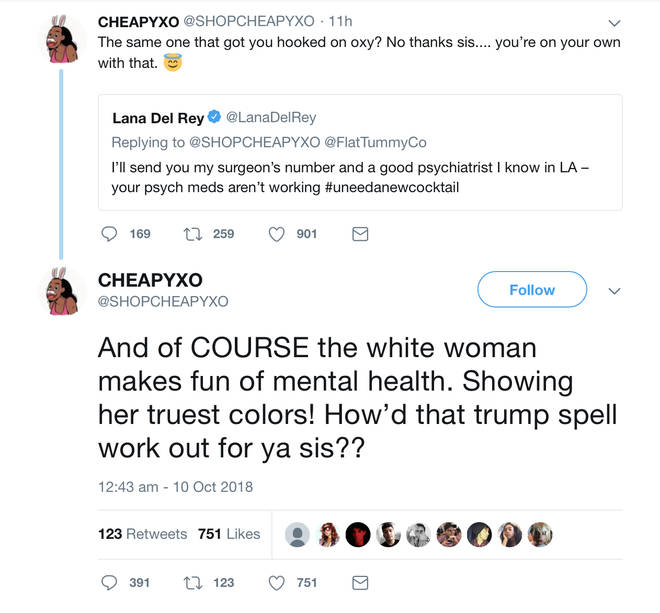 Azealia told her followers the was thinking about suing the singer following her series of threats.
"Should I be extra white woman and sue Lana for threatening me? I thiiiiiink soo!" she wrote. Lana is yet to respond.