Usher 'Confessions 2' new album: tracklist, release date, songs, lyrics, features & more
26 February 2020, 13:58 | Updated: 4 March 2020, 16:24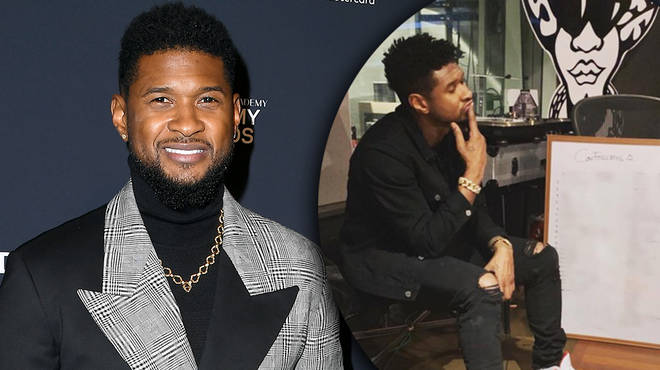 Usher has teased the upcoming sequel to his album 'Confessions'. The singer recently debuted 'Confessions Part 3' at a live lounge show.
Usher's iconic 'Confessions' album has gone down in history as one of the best R&B albums to date.
The 41-year-old singer released the aforementioned album on March 23, 2004. Last year in March, Usher teased that he is working on 'Confessions 2'.
The singers last collaboration project with producer Zaytoven called 'A', offered an Atlanta-influenced modern R&B/Hip-Hop sound.
However, fans believe the "Burn" singer will tap back into his soulful R&B sound for his follow-up to his 2004 'Confessions' album.
See more information on the R&B icons upcoming album below.
What is Usher's new album?

Usher's new album will allegedly be a sequel to his 2004 album 'Confessions', which won several awards including a Grammy for Best Contemporary R&B Album.

The singer has been suspected to return to his soulful R&B roots and channel early 2000's vibes with his new album.

Usher Signs Copies Of His CD At Virgin Records in 2004. Picture: Getty

'Confessions' is an R&B album which combined a mixture of ballads and up-tempo emotion driven music. The album offered a mixture of hip-hop, R&B, crunk and dance-pop.

The content of the album was based on storytelling of confessions, which were experienced by Usher himself, and many stories from his longtime friend/producer Jermain Dupri's life.

The album explored themes based on relationships, such as cheating, sex, heartbreak and more. Fans are hoping to receive similar content, with Usher updating them on his love life.

When is Usher's new album being released?

On Wednesday (Mar 4) Usher made an appearance on the 'Ellen' show, where he spoke about a project believed to be the sequel to diamond certified classic 'Confessions.'

When asked about when the project is arriving, Usher confirmed it will be coming out "soon".

Last year March, Usher posted a cryptic photo on Instagram. The photo displayed a drawing board that was black, with a header that read "Confessions 2".

Usher captioned the photo "Dis what yall want….

The photo also featured him sitting in what appears to be a recording studio.

The tease indicates that he's working on the sequel to his seminal 2004 album, Confessions. 

Usher also shared a photo in the studio with Jermaine Dupri, who produced 'Confessions'.

What songs are on Usher's new album?

Although there has not been official release of the track-list to Usher's 'Confessions 2' album, the R&B star has previewed his track 'Confessions Part III'.

The track is a prequel to 'Confessions' and 'Confessions Pt. 2' from the 'Confessions' album.

During a performance at "Live from the Cricket Lounge" in Los Angeles on Monday (Feb 24, Usher debuted a new song containing cryptic lyrics.

During the performance, Usher sings "Remember that time I was sitting up sick, couldn't sleep in the middle of the night? / You said, 'Babe, let me take you to the ER' / I said, 'Nah, Ima be alright' / Well, the next day I found out from f**kin' around that the sickness I had was life / And I was fixed to keeping the decision to keep it / Knowing I had to get rid of it."

After singing, Usher told the audience "You thought what you put on me from Part 2 was the realest s**t" before asking the crowd, "You realize what I just told you? You don't realize it, huh?"

Which artists feature on Usher's new album?

There has not been any confirmation on who will be on Usher's new album.

However, fans on Twitter speculate that he will collaborate with the same artists he did on 'Confessions' for his new album.

Confessions features included Lil John and Ludacris on their track "Yeah!".