Suge Knight Calls Cardi B 'The Female Version Of Tupac' & Teases Collaboration
4 February 2019, 12:01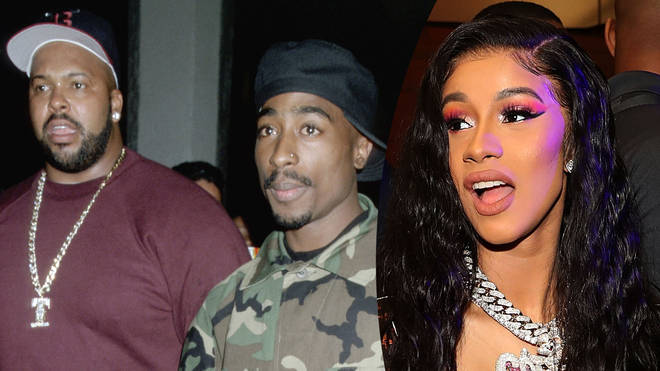 Suge Knight, who is currently serving time in jail, drew similarities between 'Bodak Yellow' rapstress and Tupac, and appeared to confirm new music between the pair.
Suge Knight has revealed that new music from Tupac might be on the way - and he's teasing some pretty big collaborations.
The former Death Row Records CEO, who is currently serving a 28-year jail sentence for a fatal hit-and-run, recently claimed that he holds the rights unreleased tracks from the deceased rapper.
Knight suggested that Tupac would have been eager to work with the likes of Drake, Beyonce and Cardi B - the latter of whom he described as the modern-day mirror of Pac.
"Cardi B is probably the most aggressive entertainer in the biz today," he said of the 'Money' rapstress. "I think she's the female version of Tupac. Tupac with a skirt. Yeah."
Suge Knight's son, Suge Knight Jr., insisted that Tupac is "still alive" and working on new music in the studio.
"I'm definitely going to bring new Tupac music for you guys,' said J. Knight, who is currently in the process of launching a brand new version of Death Row Records.
"Trust me. Tupac is good, Tupac is good. People can't fathom to believe that I have new music on the way from him."
J. Knight went on to post a photo of Cardi on Instagram with the caption, "Bardi B #NEWDEATHROWSH*T!", while Cardi is yet to respond to the duo's comments.