Snoop Dogg Hilariously Narrated A Makeup Tutorial & Everyone Is Saying One Thing
25 April 2019, 15:26
It looks like Snoop Dogg broadening his career prospects into the world of beauty vlogging - and we're here for it.
You've heard him narrating enough wildlife videos to give David Attenborough a run for his money, but it seems like Snoop Dogg is ready to jump on a new vibe - beauty vlogging.
The 47-year-old teamed up with YouTube beauty guru and Marc Jacobs Beauty global artistry adviser Nikkie de Jager, best known as 'Nikkie Tutorials', for her latest makeup tutorial.
"Hit it Snoop!" Nikkie says as she kicks off the video, before Snoop pops up in the top left-hand corner of the screen in a recording booth, ready to talk Nikkie's viewers through her look.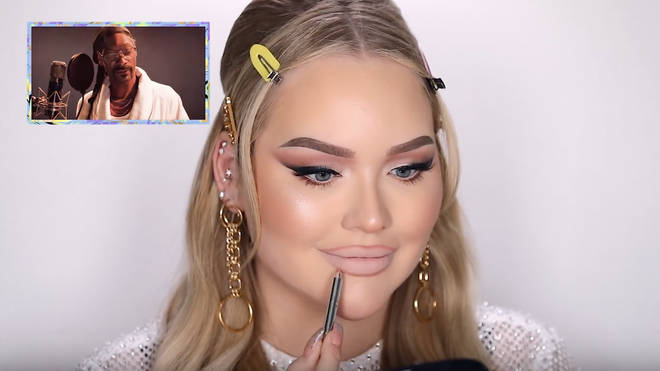 Putting a unique spin on the popular "boyfriend/mother/insert other relation here does my voiceover" trend, Snoop takes us through every step of Nikki's tutorial, which is made all the more funny as he has absolutely no idea what's going on.
"Notice how her face structure is so profoundly correct with the brush," he ponders as she powders her under-eye area. "It just fits the brush properly, as if the brush was made for her face."
"This is like a painting by Picasso," he says as she applies her eye makeup. "The way you're moving that brush, I like that." But there was specific thing that viewers couldn't get over.
"Is it just me that thinks Snoop's voice is so relaxing," questioner one viewer in the comments, which was followed by hoards of similar sentiments on the rapper's tranquil tones.
"Am I the only one who finds Snoop Dogg's voice calming?" wrote another, white another added, "Snoop Dogg needs to do ASMR, his voice is so soothing."
The video has already racked up over two million views, so it's safe to say Snoop Dogg could be about to completely reinvent the beauty world as we know it.