R Kelly Brutally Trolls Jacquees On Instagram After 'King Of R&B' Claims
11 December 2018, 11:40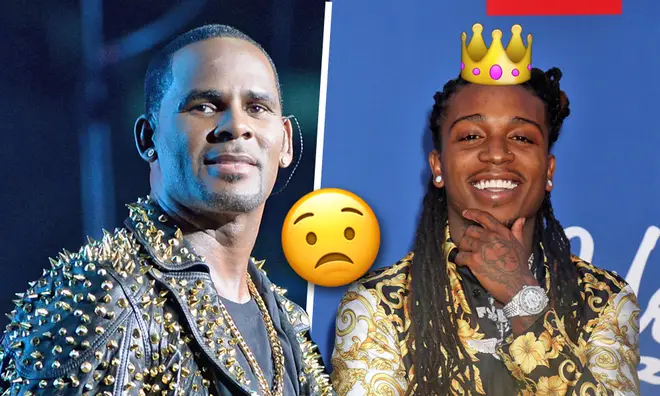 Jacquees had boldly claimed he was the 'King Of R&B', but R Kelly, John Legend and more had a few things to say about that.
Jacquees is undoubtedly making some incredible music right now, with his 2018 album '4275' seeing him work alongside the likes of Chris Brown, Jagged Edge and Young Thug - but he's now claimed he's the current 'King Of R&B'.
In a video posted on his Instagram account (below), Jacquees states, "I understand who done came and who done did that and that and that but now it's my turn" before claiming, "I just want to let everybody know that I'm the king of R&B right now".
His bold claims obviously stirred up some mixed feelings from people, but whilst there were fans backing up Jacquees' statement, a number of notable names in the music industry disputed his claim to the throne - including John Legend, Kehlani and R Kelly.
R Kelly took his response to a troll-worthy level and rather than directly addressing Jacquees' comments, the controversial performer posted a picture to his Instagram of himself sitting on a throne alongside the caption '(.) #bornforthis' with a crown emoji'.
Not leaving his trolling antics there, a few hours later R Kelly then posted a video to his Insta which showed a frenzied crowd reacting to him making a public appearance in South Africa during the 2010 FIFA World Cup.
But R Kelly wasn't the only music star to enter the debate and both John Legend and his wife Chrissy Teigan had something to say abou Jacquees' self proclaimed new title, with Chrissy taking to Twitter to write, 'the heated debate on my timeline is who is the current king of r&b. It's a doozy of a thread and hilarious. but it leaves me asking what kind of music does john make? is he left out of this? (jokes welcome, of course)'.
John Legend then jumped into the debate himself and claimed that no one in R&B is doing things to the level that Usher was in the height of his career, saying, 'Honestly I don't think there is a king of r&b right now. Anyone consistently dominating the charts, selling out arenas, etc, a la Usher at his prime. Not a comment on quality. I think the throne is open right now.'
He then followed up by suggesting that Bruno Mars and The Weeknd may have the biggest claims to the current 'King Of R&B' throne, writing, 'Part of me is talking myself into saying Bruno or the Weeknd but I'm not sure they neatly fit into the genre.'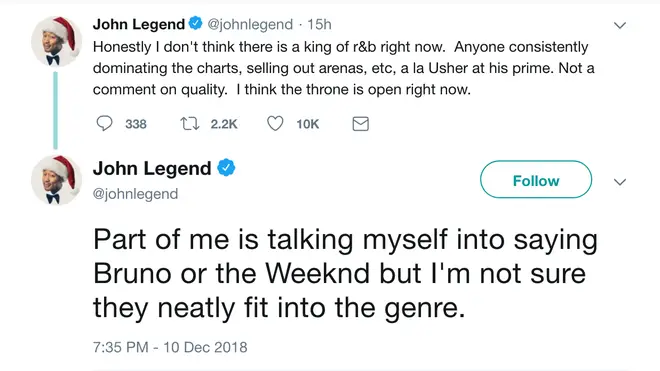 It wasn't long before Kehlani alsogot involved by tweeting that 'beyoncê is the king of rnb' before Jacquees hit back a told her that she'd spelt his name wrong.

Whilst public opinion may be split about who currently holds the title of the 'King Of R&B', it's clear that the debate will rage on for a while yet and it'll be interesting to see who elses name is brought up.
Have you got a strong opinion on the debate? Let us know on Twitter!
> Download Our Free App For All The Latest Music News!