R Kelly & Aaliyah: Surprise New Evidence 'Confirms' Secret Underage Relationship
2 January 2019, 11:17 | Updated: 2 January 2019, 11:19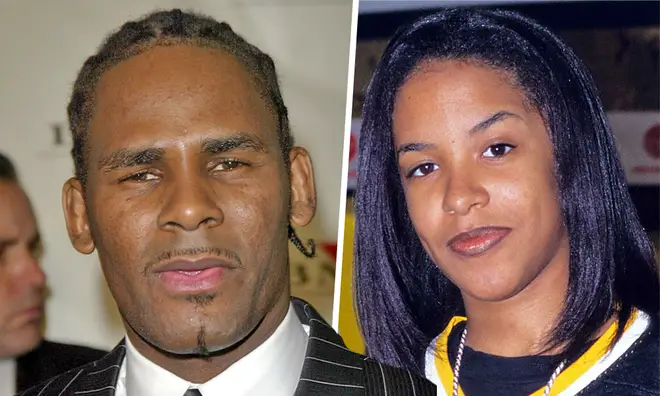 One of R Kelly's former backing singers has claimed she witnessed him doing "things that an adult should not be doing with a child."
R Kelly and Aaliyah's relationship has been debated for years and questions around whether they began dating when Aaliyah was just 15-years-old have plagued the R&B star - but now new evidence is suggesting that was the case.
In a new six-part series called 'Surviving R Kelly'which will begin airing on 3rd January 2019, a former backing singer for the R&B star called Jovante Cunningham claims she saw R Kelly and 15-year-old Aaliyah having sex.
Jovante met R Kelly when she was only 14-years-old herself and claims that she witnessed the 'Ignition' star in encounters with underaged girls throughout the nineties.
As People revealed, when speaking during the docu-series Jovante states she saw 27-year-old R Kelly aka Robert Sylvester Kelly having sex with 15-year-old Aaliyah and stated, "I can't stress to you how people are still suffering behind things that went on 20 years ago."
Revealing all, Jovante said, "We were out on the road with Aaliyah. On a tour bus, there really aren't many confined spaces. When you get on the bus there are bunks and so these bunks have little curtains you can pull at night if you don't want anybody to see you sleeping."
"So it just so happened we were all laying in our bunks and the curtains are open, everybody's communicating, laughing when the [room] door flew open on the bus. Robert was having sex with Aaliyah."
When pushed on exactly what she saw, Jovante said, "Things that an adult should not be doing with a child. I can't stress to you how people are still suffering behind things that went on 20 years ago."
The shocking story is part of a six episode Lifetime series called 'Surviving R Kelly' which will include interviews with a number of R Kelly's former friends, family members and colleagues, as well as several women who claim that the singer used his power to sexually and physically abuse women and young girls over a number of years.
> Download Our Free App For All The Latest R Kelly News!