Pusha T 'Slams Drake' After Toronto Show Ends In On-Stage Attack
21 November 2018, 11:27 | Updated: 21 November 2018, 13:14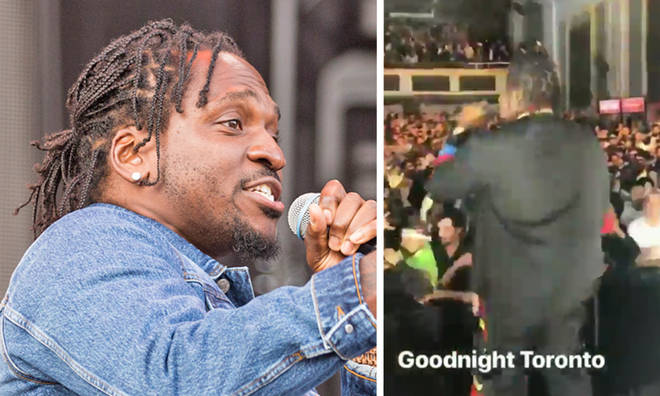 Pusha T was performing in Drake's hometown Toronto and the show turned into a mass fight following an ongoing feud between the rappers.
Pusha T and Drake have been embroiled in a rap beef which saw Pusha reveal details of Drake's secret son earlier this year - now Pusha T's first show back in Drake's hometown of Toronto has ended in an on-stage brawl.
> Drake's DJ Just Hinted At 2019 UK Tour & Fans Are Excited
Whilst Pusha T was performing on stage, several people attempted to throw beer at him before climbing over barriers at the front of the venue and were met by security.
The melee then turned into an all-out fight as Pusha T fans and his security became involved in a physical altercation which eventually spilled up onto the stage, however Pusha T had already left the performance area.
Not wanting to end the show on that note, Pusha T eventually came back out and performed songs like 'Don't Like', 'Infrared' and 'The Story Of Adonis' in a bitter swipe at Drake.
One fan who was in attendance at the Pusha T show revealed, 'on another spicy note, when Pusha came back out his main security guard was armed with a 2x4 stick like he was Jose Bautista.'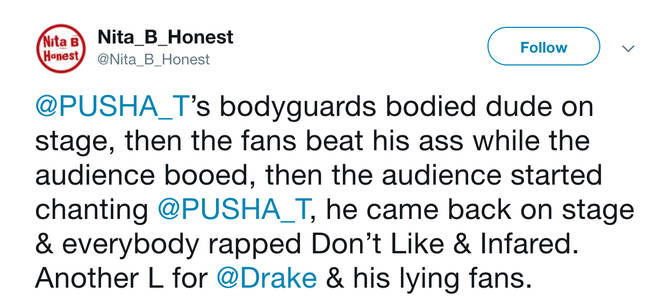 After coming back out onto the stage, Pusha T appeared to hit out at Drake in an on-stage verbal assault saying, "This n***a paid some n***as to throw beer n***a. The f**k is that? Y'all know where the f**k I'm from? You don't even know."
Pusha T later took to Twitter to like a number of tweets about the incident, including the one below which openly called out Drake.
So far Drake has remained silent on the whole situation, but fans will be keeping an eye out to see what happens next in the ongoing feud between the two rap stars.
> Download Our Free App For All The Latest Pusha T & Drake News!