Meek Mill Gets Roasted By DJ Mustard For His 'Waves' In Hilarious Video - WATCH
26 April 2019, 13:51 | Updated: 26 April 2019, 15:50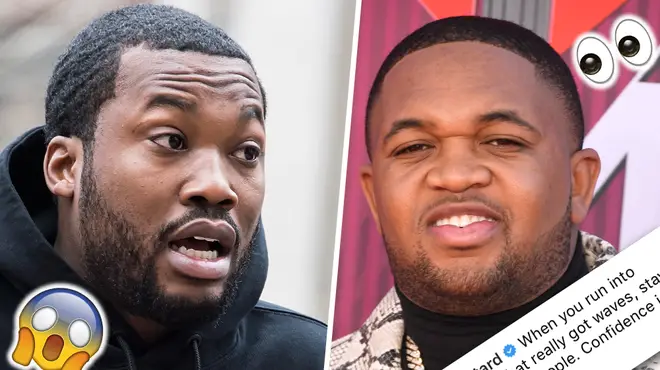 Meek Mill gets savagely trolled by DJ Mustard in hilarious video, following his Instagram disappearance...
Shortly after Meek Mill announced his departure from social media, DJ Mustard took to Instagram to roast Meek for his "2 brush" waves. DJ Mustard shared a hilarious clip of himself and Meek Mill in the studio together.
In the video, Meek and Mustard are brushing their waves in front of a camera in a studio. However, it's a humorous video rather than one of pure vanity. Mustard added a hilariously emotive voiceover dissing Meek, with the most relaxing jazz music in the background.
Just yesterday (Apr 25th) Dj Mustard took to Instagram to share the famous clip that has bee circling social media. He captioned the video "When you run into niggas that really got waves, stay confident people. Confidence is key," he wrote on Instagram.
In the voiceover, Mustard can be heard saying "Hmm... Big brother and little brother".
He continued:"I guess you wonderin' who's the little brother. Clearly, it's not me," he added before roasting Meek.
Mustard continued on to say: "I guess we both graduated to big fish now, Meek. See, I'd be the Pacific ocean, you'd be Raging Waters. See if I compared our waves to fast food, I'd be McDonald's, you'd be McDowell's."
Mustard shared another video on Instagram of the two in the studio while he brushed his waves. The video features the most hilarious edits, exaggerating DJ Mustard's waves.
He captioned this video "Meek told me if I brushed my hair backwards my waves wouldn't come back and look what happen came back even better smh ..... @ceoslow tried to show his wave fro but they wasn't on me and Meeks level sorry bud smh," he wrote.
Fans are waiting for Meek to come back on Instagram and roast DJ Mustard...
>
>
>