Lil Fizz & Apryl Jones slam Meek Mill after he calls their relationship "outta pocket"
12 November 2019, 10:38
Lil Fizz and Apryl Jones have responded to Meek Mill calling their relationship "outta pocket" after the couple posted a photo together.
Lil Fizz and Apryl Jones recently both clapped back at Meek Mill after he left a disapproving comment of their relationship, on a photo of the couple.
On Monday (Nov 11) Apryl Jones posted a photo of herself and her beau Fizz. The couple are pictured cuddled up, while sitting on a chair.
The caption on Jones Instagram post reads "My goal is that someone sees my page and decides to grow strong, live YOUR life, and not give a f*ck.❤️"
Meek Mill chimed in on the backlash the couple have been receiving; due to Apryl being Omarion's baby mama. Lil Fizz and Omarion were previously in the boy band B2K, spending most of their teenage hood together.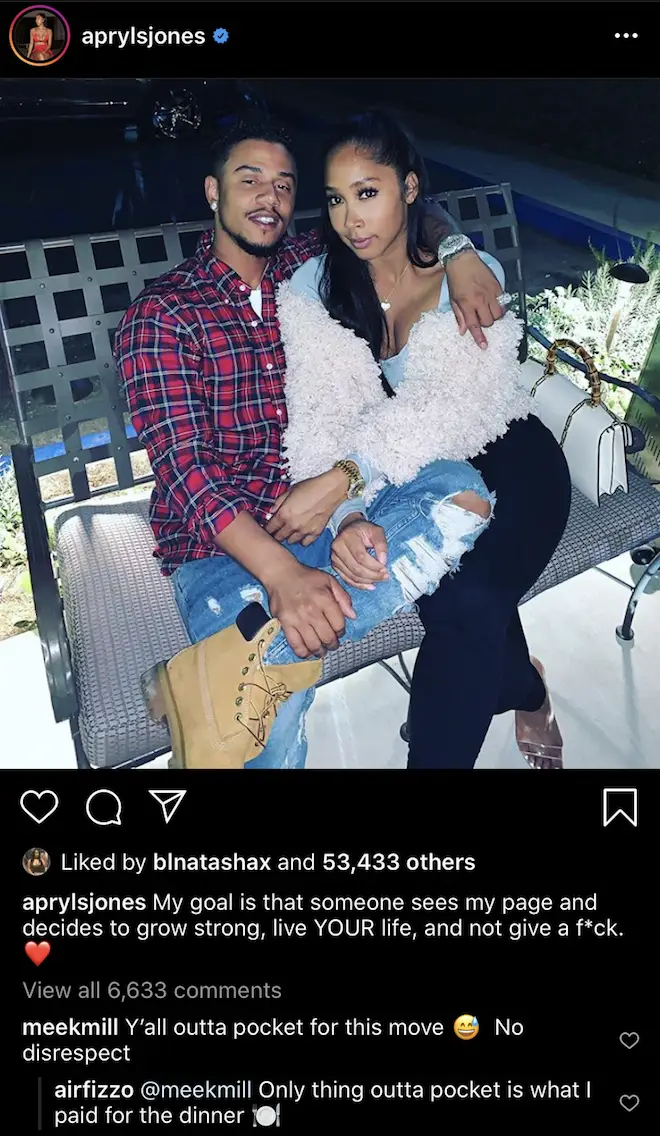 The "Going Bad" rapper wrote ""Y'all outta pocket for this move. No disrespect," underneath Jones Instagram post.
Lil Fizz cheekily responded to Meek, writing "Only thing outta pocket is what I paid for the dinner".

After TheShadeRoom posted Lil Fizz's clap back to Meek Mill, Apryl felt compelled to join the conversation, since it is about her relationship with Fizz.
The 32-year-old model commented on the post, writing "No disrespect. But you tried to talk to me. And that's not out of pocket....?"
What do you think about Lil Fizz and Apryl Jones relationship ?