Kendrick Lamar Drops New Song 'Humble' With Epic Music Video - WATCH
1 April 2017, 15:50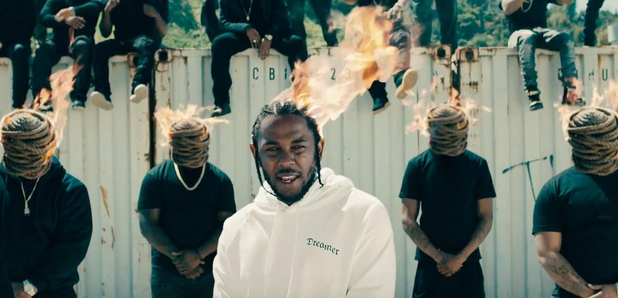 Fans think K. Dot is dissing Big Sean.
Kendrick Lamar has released a new song entitled 'Humble'.
Rumoured to be the first track from his upcoming fourth studio album, the Compton native dropped his new release alongside a seriously epic music video.
Kendrick can be seen recreating the iconic Leonardo DaVinci 'The Last Supper' painting in the new visuals, seated at the famous table next to notable music producers and engineers.
At one point, he even sets his hair on fire.
Watch the epic music video below:
The 'To Pimp A Butterfly' rapper expresses his frustration at modern beauty conventions as a stunning female model walks across the screen with and without editing.
"I'm so f*ckin' sick and tired of the Photoshop," he spits, "Show me somethin' natural like a** with some stretch marks".
Many listeners took to Twitter in response to the track, questioning whether Lamar was firing shots at fellow rapper and rival Big Sean.
I ain't believe y'all when y'all said @kendricklamar was talking about Big Sean on Part 4 but after listening to HUMBLE it's very clear

— Bird Keeper (@NaptimeJones) March 31, 2017
@kendricklamar just dropped some . R.i.p big Sean!

— Ryan Arroyo (@aRidiculousRyan) March 31, 2017
Kendrick Lamar just destroyed Drake and Big Sean's careers in two songs. He's on some Pac vibes and proving he's the greatest right now

— Jordan JFK Kenison (@kenison_jordan) March 31, 2017
I didn't realize that Kendrick Lamar was coming at Big Sean... lol that's crazy pic.twitter.com/MGkijdQdo5

— Asia (@simplyyasiaa) March 31, 2017
Lol Kendrick Lamar is not going to give Big Sean a chance is he?

— Jaden Freeman (@JadenAbstrakt) March 31, 2017
Meanwhile, Kendrick hinted at next week's possible release date for his upcoming album on the recently unleashed comeback track 'The Heart Part 4':
"You know what time it is, ante up, this is in forever / Y'all got 'til April the 7th to get y'all sh*t together".