Jhené Aiko Just Held A Funeral For Her Ex In The 'Never Call Me' Music Video
21 March 2018, 10:52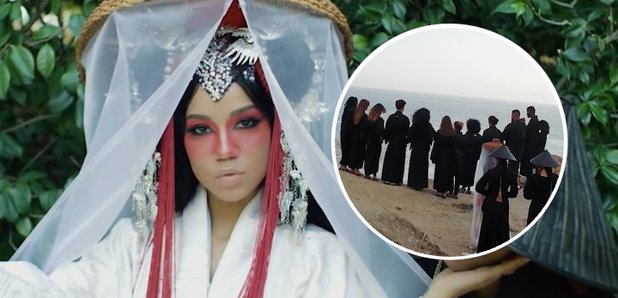 Who is the R&B singer referring to?
Jhené Aiko has dropped two brand new visuals to accompany her song 'Never Call Me'.
The track, which features esteemed rapper Kurupt, is taken from her 2017 album 'Trip' and hears the feather-voiced singer reflect on the aftermath of a destructive relationship.
One of the videos goes down a spiritual route as Aiko portrays a character named Izanami no mikoto, the Japanese Shinto goddess of creation and death.
The stunning visual concludes with Aiko, adorned in a draping white veil, attending a funeral for what she explains to Refinery 29 as her ex's ego.
"The funeral is for a man I knew personally. A man who lost his way," Aiko reveals. "A man who played the victim in a situation where he surely was not. A man who is a liar and cheater."
"A man who has lost his pride and integrity due to his deceptive ways and lack of understanding love. This funeral is the funeral for his ego. In this visual, I portray the goddess of creation and death, coming to collect his poor spirit and set it free."
Watch the first visual below:
The second video, titled the 'Slauson Hills' edition, takes a more nostalgic approach and is set in Aiko's hometown of South Central Los Angeles.
Old-school clips taken from VHS-style videos feature alongside shots of the singer chilling with friends, with cameos from rappers including Nipsey Hussle and Dom Kennedy.
Speaking to NPR, Aiko explains the meaning behind the song, which hints at a very public break-up. The singer split with her ex-husband Dot Da Genius in 2016.
"I wrote this at the height of a very public breakup, so I was feeling a way, for sure. And I'd just taken some mushrooms, so it was like an exaggerated feeling."
Watch the 'Slauson Hills' edition below.