Gucci Mane Just Crowned Himself The 'King Of Rap' & Slammed Eminem
18 December 2018, 15:35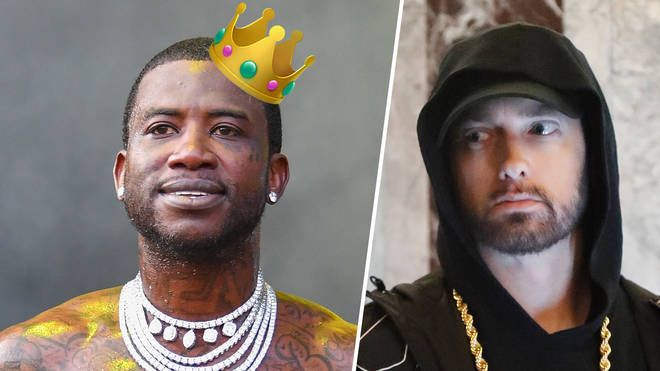 The 'Wake Up In The Sky' rapper claimed the title of 'King Of Rap' for himself, and argued that Eminem's name shouldn't be in the running to take the throne.
Gucci Mane has declared himself the 'King Of Rap', and disregarded Eminem's name from the running.
The 38-year-old rapper honoured himself with the accolade in a new interview with US comedian Rickey Smiley, in light of the ongoing 'King Of R&B' debate started by singer Jacquees.
"I know the king of rap - me!" said Mane, before discussing why he thought Slim Shady's name should be questioned in terms of taking the title.
"You've gotta come with a better name than that!" Mane said at the mention of Em's name. "I ain't playing Eminem in my car! You play him in yours?"
"You sliding around playing Eminem in your car with your old lady?!" he added after Smiley's co-host confessed to playing Eminem's album 'Kamikaze'.
Gucci also ruled out Hip-Hop mogul Jay-Z from the crown because he's from New York, not Atlanta. "He from up top so that cancels him out to me.
"I'm from Atlanta, how am I going to say Jay Z? It would be dumb as hell!" he added, before claiming that every rapper from the city has been inspired by him at some point.
"Who I didn't help that's got something going on right now, that's what we should be saying. Everybody currently in Atlanta, I indirectly helped them or inspired them," said Mane.
"From them telling me that or me just knowing the back story - I always helped them get to a better situation."
Who do you think the true King Of Rap is? Let us know your opinion on Twitter!