Drake Smashes A Lamp With A Dodgy Football Shot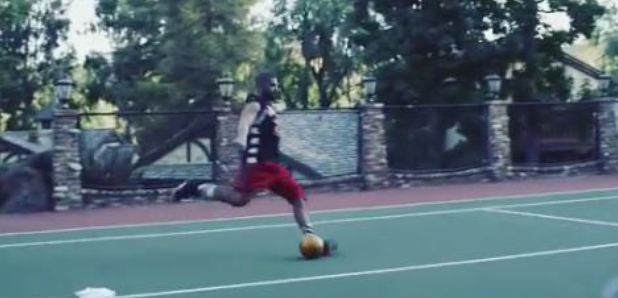 Drizzy showed why he isn't a footballer.
Drake displayed some questionable football skills on Instagram, showing himself breaking an outdoor lamp with a wayward shot.
The short clip shows the Canadian rapper attempting to kick the ball into a football net, but missing entirely and smashing a nearby lamp.
Despite destroying the lamp, Drizzy shouted 'Goal!' at the camera and tagged Real Madrid football player Cristiano Ronaldo in the video, with the caption "Crazy Lamp Trick Shot."
Meanwhile, Drake was brought out on stage by long-time friend J. Cole during the finale of his recent 'Forest Hills Drive' tour.
He joined the likes of Jay Z, Big Sean, YG and Jeremih, and performed hits including his Meek Mill diss track 'Back To Back' and 'Know Yourself'.